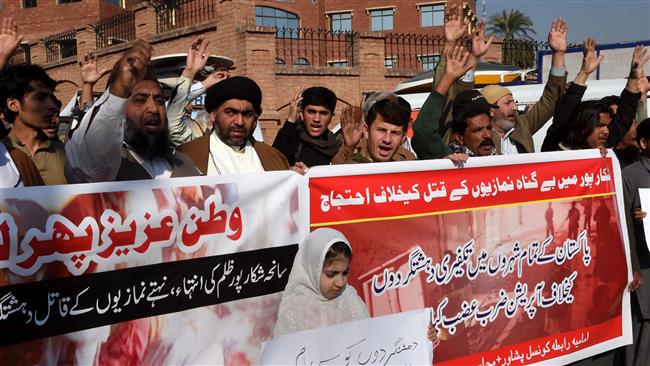 Iranian Foreign Ministry Spokeswoman Marzieh Afkham has in the strongest terms condemned a recent deadly bomb attack on Shia Muslims in Pakistan.
The Islamic Republic of Iran condemns terrorist attacks against the defenseless people of any ethnicity or religion in Pakistan and considers them to be in contravention of the teachings of Islam as well as humanitarian values, Afkham said on Saturday.
Underlining the need to confront extremism and terrorism, Afkham urged regional countries to cooperate in fighting terrorism and called on Muslims to maintain their unity in the face of divisive plots by enemies.
The Iranian official also extended condolences to the bereaved families of the victims of the Friday attack.
At least 60 people were killed and dozens wounded in a bomb blast at a Shia mosque and religious center in southern Pakistan on Friday.
The attack took place when people were performing Friday prayers in Shikarpur district of Sindh Province.
The Jundallah militant group has claimed responsibility for the attack.
Hours after the mosque bombing, large crowds of Pakistani people, including members of civil society and peace activists, poured onto the streets of Pakistan's largest city of Karachi to voice their outrage over the massacre.
Similar rallies were held in other Pakistani cities, including the capital, Islamabad, Lahore, and Quetta.