Iran
Middle East
Saudi Arabia
Iran confirms: Saudi Arabia releases detained Iranian oil tanker after over two months
Tehran confirms earlier reports that an Iranian oil tanker, which was detained by Saudi Arabia more than two months ago, has been released, saying the vessel is now returning home.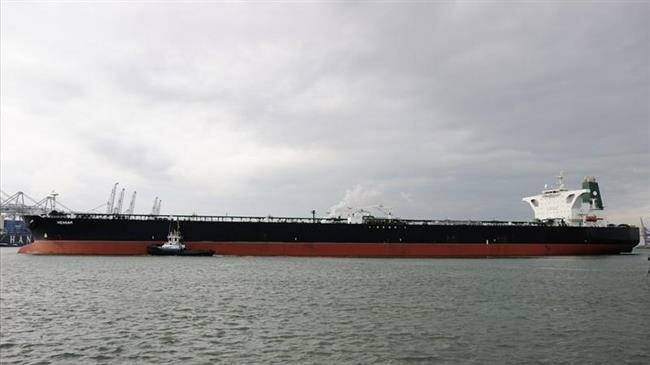 Iran's Minister of Roads and Urban Development Mohammad Eslami said the oil tanker, named Happiness I, had been freed after a series of negotiations.
The news first surfaced in the media on Saturday, with the reports saying the tanker was heading home with the entire crew.
Saudi Arabia announced in early May that its coast guard had rescued a distressed Iranian oil tanker with 26 on board off the Red Sea port of Jeddah, after it faced "engine failure and the loss of control."
According to Iranian officials, the incident had occurred on April 30 while Happiness I was on its way to the Suez Canal, and that water had leaked into the tanker's engine room.
The Saudis were refusing to let the vessel leave and were, at the same time, demanding that Iran pay $200,000 a day for maintaining the vessel in the port city of Jeddah, some $10 million in total.
Saudi Arabia taking Iranian oil tanker 'hostage'Tehran has warned Riyadh over holding an Iranian oil tanker "hostage," describing it as a case of ransom-seeking.
The vessel was finally released on Saturday at 6:15 (local time) "thanks to special efforts undertaken by Iran's Ports and Maritime Organization and with the permission of authorities at the port of Jeddah," said Eslami.
The tanker, he said, is now being towed towards Iran's territorial waters by two towboats as its "engines are not functioning and need repair," the official added.
'Happiness 1 returning home'
Later on Sunday, Iran's Foreign Ministry spokesman, Abbas Mousavi likewise confirmed reports that the Iranian tanker was en route to Iran after being released by Saudi port authorities in Jeddah.
"The tanker Happiness, which had berthed in Saudi Arabia's Jeddah port due to a technical glitch on May 2, finally left Jeddah port for Iranian ports on July 20 following various bouts of consultations and incessant follow-up by the Ministry of Foreign Affairs with concerned officials and after the technical glitch was fixed," Mousavi said.
The Iranian diplomat also added that a crew member of another Iranian vessel, called Saviz, who had been injured in an accident on June 3 and taken to a hospital in Saudi Arabia's Jizan for treatment has been also taken to Oman after consultations conducted by Iran's Foreign Ministry before returning home.
Mousavi then stated that due to severance of diplomatic ties between Iran and Saudi Arabia, these two maritime issues were pursued through various diplomatic channels.
"We thank Switzerland and Oman as well as concerned officials in Saudi Arabia for providing necessary services with regard to these two issues," the Iranian spokesman added.