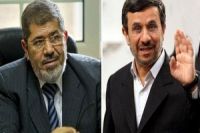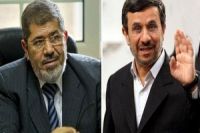 Iran's President Mahmoud Ahmadinejad has congratulated his Egyptian counterpart on the successful holding of a referendum on the country's draft constitution.
According to Press TV, President Ahmadinejad said in a telephone conversation with Mohamed Morsi on Tuesday "I'm confident that the Egyptian nation, in the new era, will rapidly move toward the peaks of dignity and progress."
He added the two friendly and brotherly nations of Iran and Egypt will stand together on the path of dignity and progress and the Iranian nation will not spare any effort to cooperate with or support Egypt.
Morsi, for his part, thanked Ahmadinejad and said Iran and Egypt can achieve immediate progress through cooperation and added the Egyptian nation and officials attach high significance to ties with Iran in the way toward development.
A total of 63.8% of voters cast ballots in favor of the new Egyptian draft constitution in the two-stage referendum held on December 15 and 22.
The new constitution states that the nation must be governed by the principles of Islamic law.
Parliamentary elections must now take place in Egypt within two months.