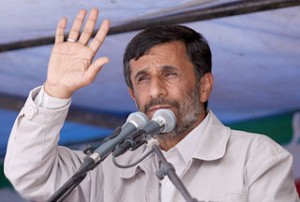 Iranian President Mahmoud Ahmadinejad has congratulated Bolivian President Evo Morales for his landslide reelection victory as the two countries enjoy amicable relations.
"I believe that your victory will strengthen friendly bonds between justice-seeking nations and promote equality, independence, freedom and kindness," said President Ahmadinejad in a message to his Bolivian counterpart on Tuesday.
"It will also remind arrogant systems about the fact that wise nations follow justice-based spirituality and that the future belongs to nations like ours," he added.
The Iranian president expressed hope that his Bolivian counterpart would take steps towards his country's progress and improvement of cordial relations between Tehran and La Paz.
Iran's relations with Bolivia have greatly improved during Mahmoud Ahmadinejad's government. Ahmadinejad and his Bolivian counterpart Evo Morales have exchanged state visits.
Iran pledged in August, 2007 to invest 1.1 billion euros in Bolivian agriculture, industry, energy and humanitarian affairs. Iran has sold Bolivia tractors made in Venezuela, built dairy factories and offered to help finance a cement plant.
The growing ties between Iran and Latin American countries, including, Brazil, Venezuela, Cuba, Nicaragua and Bolivia, have raised concerns in Washington, which has been trying to isolate Tehran over its nuclear activities.