Iran
Middle East
World News
Iran cuts oil output in some areas to save flood-hit people
Iran has shut down some oilfields in Khuzestan province as intensive efforts are underway to control damage from flash floods and prevent possible environmental pollution, Minister of Petroleum Bijan Zangeneh says.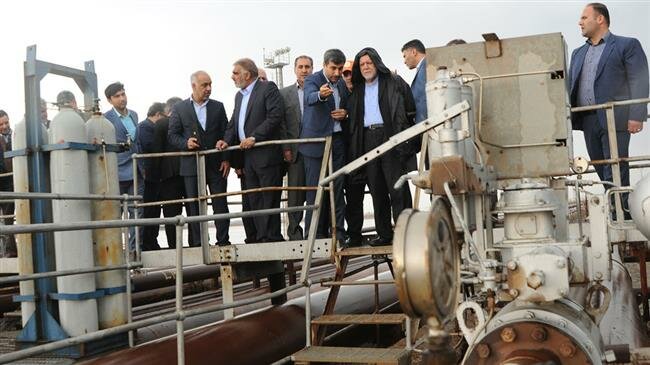 Zangeneh said Friday some oil pipes in the province have been emptied for the first time, and oil output has been reduced in some flood-hit areas as precaution. The minister stressed that oil production in the province has not stopped.
Zangeneh, who is in Khuzestan to marshal the ministry's equipment and forces to alleviate the situation in the flood-stricken areas, dismissed as a "big lie" certain rumors that Ministry of Petroleum has prevented the flow of water in areas where oil facilities are located.
"Government officials, the oil industry, and provincial executives have never sought to protect oil facilities at the expense of causing damage to people," he said.
However, the minister noted, the ministry takes into account environmental issues and tries to prevent oil pollution in flood-hit areas, as it will cause further problems for the residents.
"Currently all oil wells in the West Karoun region are flooded or surrounded by water except for a protected area of hundreds of meters around the wells," Zangeneh said.
Last weekend, head of Iran's Petroleum Engineering and Development Company (PEDEC) Turaj Dehqani said floods had caused some minor problems to current operations in the joint fields with Iraq.
Governor General of Khuzestan Gholam-Reza Shariati confirmed the remarks, saying water drainage into Hawizeh Marshes known to locals as Hoor al-Azim wetland where some oil facilities are based had not been blocked.
All the five oilfields shared between Iran and Iraq are located near Hawizeh Marshes which straddles the border between the two countries
The wetland, which used to be so much dry that it burned in fire for several months last year, is now almost fully covered with water.
The provincial governor said the wetland is now so much flooded that one of the levees on the Iran-Iraq common border has broken, causing water to flow into the Iraqi side of Hawizeh.
Iran floods: More cities evacuated as threat persistsEvacuations and rescue efforts are underway in Khuzestan and Lorestan provinces, where hundreds of thousands of people are vulnerable to possible flooding.
Efforts underway to prevent devastation
Over 210 villages and six cities in Khuzestan have been ordered to evacuate amid the threat of floods which have hit many provinces in Iran since March 19.
The recent deluges have killed over 70 people so far, and caused damages to 438 urban houses and 87,000 village houses.
Iran's Interior Minister Abdolreza Rahmani Fazli recently warned that floods in Khuzestan could affect as many as 400,000 people.
The ministers of interior, defense, and agriculture had an emergency meeting with the head of the Iranian Red Crescent Society in Khuzestan on Thursday afternoon in order to review measures taken to help the flood-hit areas.
The meeting was held as heavier downpours were expected on Friday in seven Iranian provinces, including north of Khuzestan, south of Kurdistan, Kermanshah, Lorestan, Ilam, Kohgiluyeh and Boyer-Ahmad, and north of Bushehr.
Army cancels planned parades in flood-hit areas
The Iranian Army also called off its annual parades which were due to be held on April 18, marking the national day of army, in a bid to continue helping the crisis-hit people.
"We'll proudly mark the Army Day along with the patient and honorable people affected by the recent flood," Army Chief Commander Major General Abdolrahim Mousavi said.
Iran Army deploys heavy-duty dredger to flood-hit regionIran's Army deploys a special, heavy-duty dredger to a northern province severely hit by recent flooding to speed up the redirecting of floodwaters to the sea.
IRGC engineers in Khuzestan to control flooding
A group of IRGC Ground Force engineers have been deployed in Khuzestan in order to fortify Eyn-e Do canal and prevent the provincial capital of Ahvaz from being flooded.
"Concerns have been decreased to a great extent after what we did on Salman Canal, and now we are going to improve the situation in Eyn-e Do region," IRGC Ground Force Commander Brigadier General Mohammad Pakpour said Thursday night, while visiting the canals.
The Iraqi popular mobilization forces, Hashd al-Shaabi, have also sent their engineers to the neighboring country in order to help the flood-hit people close to the Iranian-Iraqi border.
In a statement, the Iraqi organization announced that scores of loaders, graders, and other construction machinery have been sent to border areas in order to control deluges and prevent them from entering urban areas.
During the past few weeks, Iranian people, officials, and Armed Forces have joined hands and stepped up relief efforts in several provinces hardest hit by flash floods, as people in most parts of the country continue to grapple with adverse weather conditions.
Iran armed forces, rescue teams step up flood responseThe Army and the IRGC have mobilized all their resources to speed up rescue and relief efforts in about half of the country affected by flash floods.
President Hassan Rouhani has vowed that his government will spare no effort to help people in the flood-stricken areas and to compensate for the damages as soon as possible.