Iran
Iran defense system non-negotiable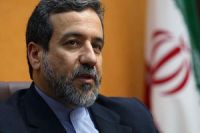 A senior diplomat says Iran will not allow six world powers to raise the issue of the Iranian defense systems during the course of nuclear negotiations.
According to Press TV, Seyyed Abbas Araqchi, who is the Iranian Deputy Foreign Minister for Legal and International Affairs, said on Wednesday that Iran has not allowed the inclusion of its defense systems in the nuclear talks with the five permanent members of the UN Security Council – the United States, China, Russia, France and Britain – plus Germany so far, and will not do so in the future.
The Iranian diplomat also stated that the six countries insist on negotiations over Iran's defense systems.
Araqchi said "We have declared to them that our country's defense systems are non-negotiable."
On May 11, Leader of the Islamic Revolution Ayatollah Seyyed Ali Khamenei said the Western expectation that the Islamic Republic limit its missile power is a "stupid" idea.
Ayatollah Khamenei stated "They (the West) expect limits to Iran's missile program while persistently threatening Iran with military [action]. Therefore, such an expectation is stupid and foolish."
Iran and the six world powers have been discussing ways to iron out differences and start drafting a final deal that would end the West's dispute with Iran over the country's nuclear energy program.
In November 2013, the two sides signed an interim deal in the Swiss city of Geneva. The agreement came into force on January 20.