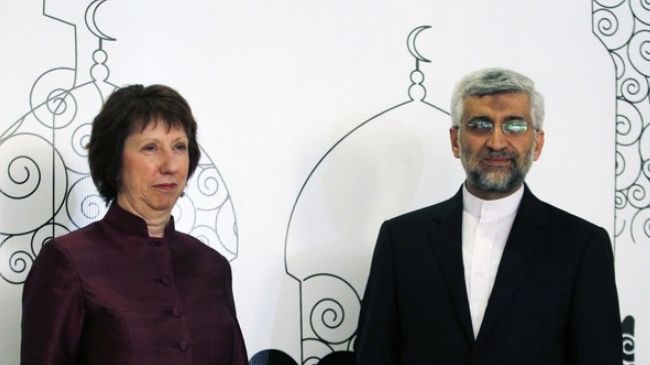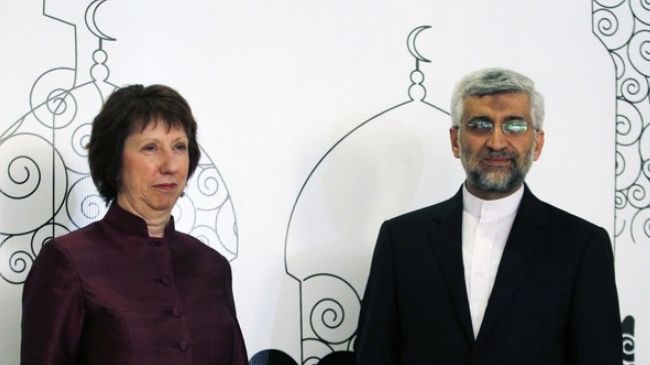 The secretary of Iran's Supreme National Security Council has called on the group of six major world powers to provide a clear response to ideas put forward by Tehran in the negotiations with the P5+1.
In a telephone conversation with EU foreign policy chief Catherine Ashton on Thursday night, Saeed Jalili pointed to Iran's 'constructive, effective and innovative attitude' toward the negotiations and said," A clear and specific response [from the P5+1] to the Islamic Republic of Iran's sensible ideas is a logical request."
Ashton, for her part, welcomed Iran's proposed ideas in the recent Tehran-P5+1 talks in Istanbul. She said that she would confer with the P5+1 group on the issue and will announce the conclusion to Jalili within two weeks.
The deputies to Jalili and Ashton ended their day-long talks in Istanbul on July 24.
The meeting between Ali Baqeri and Helga Schmid was held three weeks after Iran and the P5+1, comprising Britain, China, France, Russia and the United States plus Germany, held an expert-level meeting on July 3 in Istanbul with the participation of representatives and experts from both sides.
The two sides had agreed to hold the expert-level talks during their negotiations in the Russian capital, Moscow, in June.
At the heart of the Moscow negotiations was Iran's nuclear energy program, with Tehran reiterating its inalienable right to enrich uranium for peaceful purposes.
The United States, Israel and some of their allies have repeatedly accused Iran of pursuing non-civilian objectives in its nuclear energy program.
Iran rejects the allegations, arguing that as a signatory to the nuclear Non-Proliferation Treaty (NPT) and a member of the International Atomic Energy Agency (IAEA), it is entitled to develop and acquire nuclear technology for peaceful purposes.