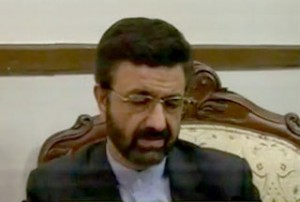 Tehran's envoy to Kabul says the recent media smear campaign against Iran is part of an organized effort seeking to undermine the "historic ties" between the two neighbors.
"We think there are hidden hands behind these protests, it is not the work of an individual or a group. It's a scenario created by certain embassies," Fada-Hossein Maleki told Press TV on Saturday.
"Some Western countries aren't happy about Iran-Afghanistan relations and are trying to undermine these ties but they will not succeed," the ambassador stressed.
Afghan media reports have recently accused the Islamic Republic of handing over 3,000 death sentences to Afghan nationals. Both Kabul and Tehran have dismissed the allegations, saying only six Afghan nationals found guilty of armed drug trafficking were sentenced to death.
"One wonders, are these people (who accuse Iran) really the guardians of the people? We are witnessing the death of Afghan civilians on an almost daily basis. But they never raise their voice over this," Maleki said referring to the high civilian death toll of US-led military operations in the war-torn country.
He added that while the march seems to defend armed drug-smugglers, the US bombardment of Afghan wedding ceremonies remains unchallenged and is dismissed as unintentional.
"We have lost some 4,000 of our finest youth to the armed fight against the smugglers. Iran is in fact bearing the brunt of European and Western countries' failures (in uprooting drug trafficking in Afghanistan)."
Following calls by a private Afghan TV channel, which billed the allegations as a systematic execution of Afghan refugees, less than one hundred protestors marched in Kabul.
The controversial Emrose (today) channel is owned by a member of Afghanistan's National Parliament, Najibullah Kabuli.
Kabuli's Critics say he is an American agent in Afghanistan.
According to the Islamic Republic News Agency, the overall number of detained Afghan nationals, who have been arrested following felony complaints, in Iran is around 4,000.