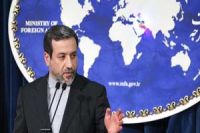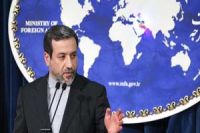 Iran Foreign Ministry Spokesman Abbas Araqchi has dismissed reports quoting Iraqi Foreign Minister Hoshyar Zebari as saying that Tehran may be sending weapons to Syria through Iraq's airspace.
According to Press TV, Araqchi said on Wednesday: "So far, the Iraqi government has conducted intrusive inspections of some Iranian planes bound for Syria, and in all cases it was officially announced that these planes were not carrying military equipment, while in some cases the Iraqi officials said the planes were carrying food and medicine."
Araqchi said high-ranking Iraqi officials and the inspection team have repeatedly said the same thing about Iranian planes heading for Syria.
In an interview published by the London-based Asharq al-Awsat on June 13, the Iraqi minister said Baghdad started to inspect Iranian and Syrian planes at random last September, adding, "We have found non-lethal materials, like equipment, medicine and food."
Under pressure from the United States, Baghdad has searched several Syria-bound Iranian planes.
In April, Baghdad checked Iranian aircrafts for three consecutive days. The searches, however, found nothing but humanitarian aid and commercial goods.
In October 2012, Iraq forced a Damascus-bound IranAir cargo plane from Tehran to land and searched it for weapons, but allowed it to continue as no prohibited items were found onboard.