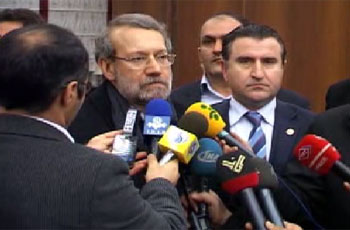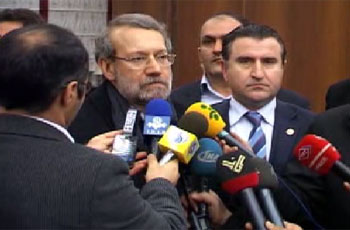 Iran is determined to develop relations with Turkey, Iranian Parliament Speaker Ali Larijani said on Wednesday.
Speaking to reporters at Ankara Airport, Larijani added that Turkey is a brother country and both Iran and Turkey have an important role in the region.
Iranian Parliament Speaker arrived in Ankara and was welcomed by Turkey high-ranking officials at the airport, here Wednesday.
In addition to studying the ways to develop parliamentary cooperation between Iran and Turkey, Larijani is expected to raise the concern of the Islamic Republic of Iran with Turkey and other Muslim nations in the context of the Islamic Inter-Parliamentary Union over zionist israeli attempt to judaize the occupied holy Qods.
The attempt made by the Zionist regime to declare Holy Qods as the capital of the occupying entity.
Iran has called for concerted action by the Islamic governments and the Iranian parliamentary delegation led by Larijani will consult with Turkish officials for collective action of the governments of the Muslim nations to draw the attention of the international community to the avarice of the Tel Aviv regime and its insistence on ignoring the rights of the Palestinian nation.
Larijani is also scheduled to hold talks with President Abdullah Gul and Prime Minister Recep Tayyip Erdogan on various topics as expansion of regional cooperation, current developments in Syria, Iraq and Palestine.
Larijani will also discuss expansion of regional parliamentary cooperation as well as issues pertaining to General Assembly of the Islamic Inter-Parliamentary Union which is to be held in Indonesia on January 30.
Observers say that parliamentary delegations of the Islamic governments will echo the extreme concern of the Muslim nations over continued occupation of holy Qods and systematic violation of rights of the Palestinian nation by Tel Aviv regime.