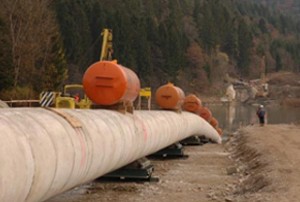 A senior Iranian energy official has announced that Iran's natural gas exports have doubled since the beginning of the current Iranian year (March 21).
"During the past 40 days of this year, the exports of Iran's natural gas have experienced a 98 percent growth compared to the same period last year," Mostafa Kashkouli the deputy managing director of the National Iranian Gas Company (NIGC), said on Sunday.
He added a significant portion of the gas has been pumped to the neighboring Turkey. Kashkouli also reiterated that gas exports to neighboring countries are the main priority of his company.
Iran has the world's second largest natural gas reserves after Russia. Hojjatollah Ghanimifard, the vice president for investment affairs of the National Iranian Oil Company (NIOC), said last week that Iran is set to issue nine billion euros worth of participation bonds by the end of the Iranian calendar year to develop its energy projects.
"Around nine billion euros worth of participation bonds in foreign currency and rials have been allocated for different projects in the Oil Ministry in the current year," the Shana website quoted Ghanimifard as saying.
Three billion euros will be allocated to the South Pars gas field and the rest will go to oil field development projects, he noted.