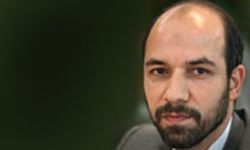 Iranian and Ecuadorian industry ministers reviewed ways to develop industrial cooperation.
Minister of Industries and Mines Ali-Akbar Mehrabian held talks with his visiting Ecuadorian counterpart Cavier Abad on late Sunday, accoridng to IRNA.
Mehrabian emphasized the necessity to expand mutual ties with the Latin American countries, Ecuador in particular.
Iranian minister also expressed hope that two countries would enhance level of cooperation, citing the visit of his Ecuadorian counterpart as vital for expansion of mutual economic and cultural ties.
Referring to Ecuador's rich mineral resources, Mehrabian said that the Islamic Republic of Iran is willing to expand its cooperation with Ecuador in the fields of mineral sector and geology.
Abad, for his part, welcomed expansion of industrial and economic ties with Iran.
Appreciating Iran's industrial and mineral achievements, the Ecuadorian minister called for expansion of ties with Iran.