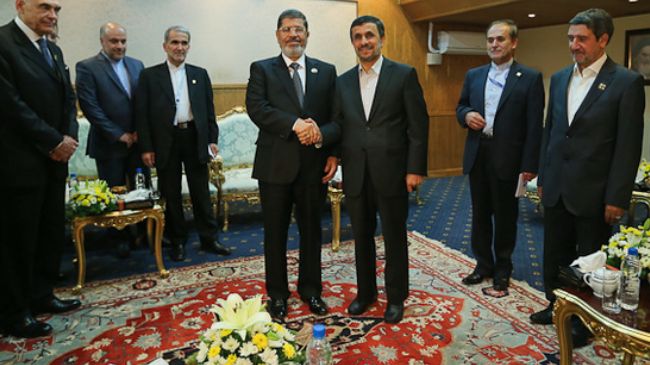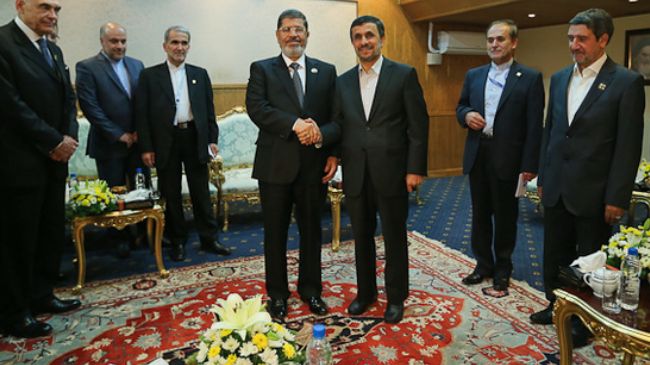 Iran's President Mahmoud Ahmadinejad and his Egyptian counterpart, Mohamed Morsi, have described the two key Middle Eastern countries as "strategic allies."
At a Thursday meeting with Morsi in the Iranian capital, Tehran, Ahmadinejad referred to Egypt as "Iran's strategic ally" and expressed the interest of the Iranian nation and government in enhancing cooperation and friendly relations with the Egyptian government and nation.
Ahmadinejad pointed out that friendly ties between Iran and Egypt will be to the benefit of the entire Middle East and said, "The Islamic Republic of Iran is prepared to make its experiences and facilities available to the Egyptian brothers and [is ready] for the exchange of science, technology and expertise between the two countries."
The Iranian president described Israel and West's hegemonic policies as a threat to the region and the world and added, "The arrogant powers never favor the progress and strength of independent and justice-seeking nations and their friendship or animosity toward nations are based on the long-term objectives that they pursue in the international arena."
Ahmadinejad underlined the need for reforms in all the regional countries, noting that the countries should be cautious about the way reforms are implemented.
He alluded to the strategic role of Iran and Egypt in resolving the regional issues, including the Syrian crisis, and noted that any mediation in Syria should be aimed at ceasing the bloodshed and lead to the rule of people's will.
Ahmadinejad, however, warned against foreign meddling in Syria and pointed out, "We should be vigilant so that NATO and the other hegemonic powers will not be able to interfere in such affairs."
Morsi, who visited Tehran on Thursday to attend the 16th Summit of the Non-Aligned Movement, said, "Egypt also considers Iran as its strategic partner and believes that, with a positive view to the future, everyone should provide suitable grounds for the regional developments."
"The feeling of friendship and fraternity between the Iranian and Egyptian people is reciprocal and we always honor the positions and the constructive forward march of Iranian nation in the process of growth, development and progress," he said
The Egyptian president called for a collective effort by all the regional countries to settle the existing problems and noted that the Syrian crisis can only be resolved through the mediation and efforts of the key regional players such as Iran.