Iran, Egypt can help bring about unity among Muslims: Al-Azhar Sheikh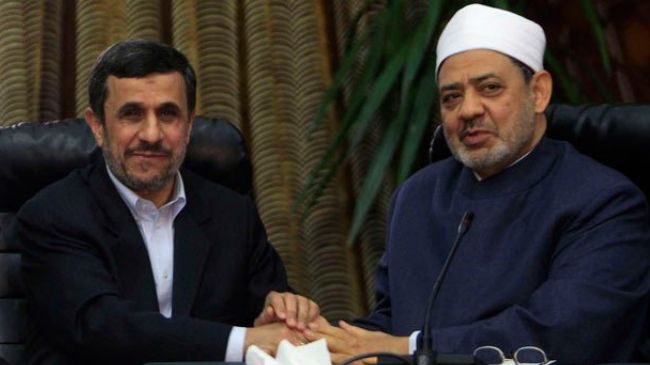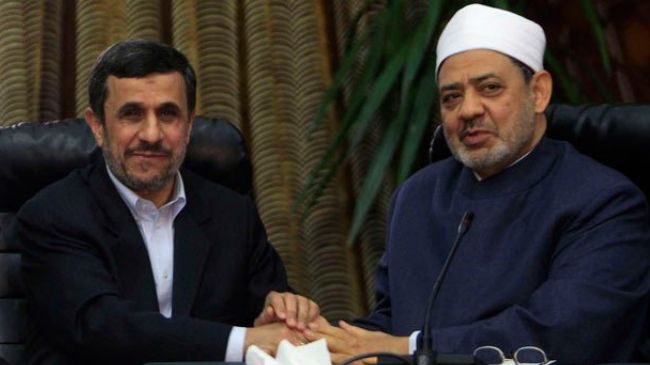 Sheikh of Egypt's Al-Azhar Ahmed al-Tayyeb says Tehran and Cairo can join hands to foil the Western plots of sowing discord among Muslims.
The top Egyptian cleric said in a meeting with Iranian President Mahmoud Ahmadinejad in Cairo on Tuesday, "We respect you as someone who, apart from his political responsibilities, tries to help the realization of unity among Muslims,"
Tayyeb also stated that Al-Azhar scholars make every effort to eradicate discord among Muslims, and to fight Islamophobia and enmity toward Shia Muslims.
Tayyeb added that discrepancies should not create tensions between Sunni and Shia Muslims. He once again hailed the fatwa issued by Leader of the Islamic Revolution Ayatollah Seyyed Ali Khamenei in 2010 that prohibits insulting the companions of Prophet Mohammad (PBUH) and his wives.
On Tuesday, the Iranian president began a historic visit to Egypt to attend the 12th summit of the Organization of Islamic Cooperation (OIC).
Ahmadinejad was received by Egyptian President Mohamed Morsi upon his arrival at Cairo International Airport. He is the first Iranian head of state to visit Egypt in 34 years.
Iran severed its diplomatic ties with Egypt in 1980, after the Islamic Revolution of 1979, because Egypt signed the Camp David Accords with the Israeli regime and offered asylum to former Iranian dictator Mohammad Reza Pahlavi.
Morsi also visited Iran in August 2012 to attend a summit of the Non-Aligned Movement. It was the first visit of an Egyptian president to Iran in more than three decades.