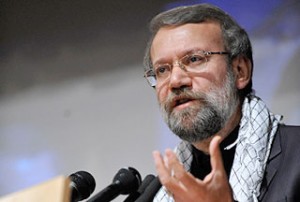 Iran and Egypt do not differ in strategies regarding Israel, although they may employ different tactics, Iran's Parliament Speaker Ali Larijani says.
Larijani, who returned from a four-day visit to Egypt on Wednesday, told reporters that Iran and Egypt did not vary in strategies when it came to Israel.
"There may be differing views in tactics (over Israel) between Iran and Egypt but the strategies of the two countries are not different," the top official stressed.
He also said that Iran was pursuing a strategy that seeks to make maximum use of the potentialities of Muslim countries in confronting Israel.
Larijani flew to Egypt on Sunday to take part in a committee meeting for the Parliamentary Union of the OIC Member States (PUIC).
During his stay in Cairo, Larijani held talks with leading Egyptian officials, including President Hosni Mubarak, Foreign Minister Ahmed Aboul Gheit and his counterpart Ahmed Fathi Surur.
The meetings are believed to be the first high-level talks between the two countries since they broke off official diplomatic relations in 1980. Tehran was critical of Cairo's peace treaty with Israel.
Ties between the two were further strained during the Israeli offensive on the Gaza Strip in December 2008-January 2009.
Tehran criticized Egypt during the war for its refusal to open the Rafah border-crossing, the only route for the impoverished Gaza Strip to receive aid.
In Cairo, Larijani emphasized, however, that Tehran and Cairo should put aside their differences with regards to the Palestinian issue.
"It is most important for Iran and Egypt to set aside their differences and to focus on bridging the gap between political factions in Palestine," said Larijani in a meeting with Foreign Minister Aboul Gheit.