Iran
Iran, Egypt Parliament Speakers meet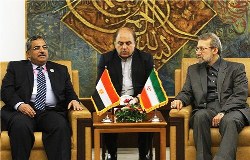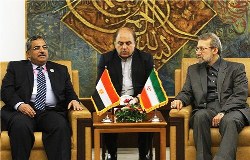 Iran Parliament Speaker Ali Larijani has met with his Egyptian counterpart to discuss developments in the sidelines of the first day of the 8th two-day Inter-Parliamentary Union.
In this meeting Ali Larijani addressed developments in Egypt, saying that "from the beginning we followed developments in Egypt. Your victory was a political landslide in Egypt."
"Egypt is a very important country and we hope that political reform in the country brings about good results," he asserted.
Iran Parliament Speaker told his Egyptian counterpart that "you have not yet visited Iran and we hope that you would visit there with a parliamentary delegation for the strengthening of Iran-Egypt ties."
In this meeting Egyptian Parliament Speaker expressed his pleasure to meet the Islamic Republic of Iran Parliament Speaker and believed that Iran and its Revolution were the base for all revolutions and that in Egypt they have always supported Iran's right to peaceful nuclear energy.
"Egyptian people have been always against the intervention by great powers in Iran's internal affairs and have always stressed the western double standards in its approach to Iran and Israel," he added.
The Egyptian Parliament Speaker stressed the fact that the Egyptian nation looks for strengthening ties with Iran and said "Iran and Egypt pursue right policies which lays the grounds for closer ties and stronger relations between both countries."