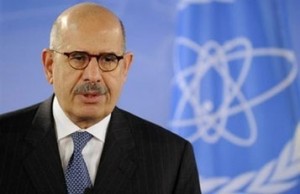 Iran has again turned down an offer by the UN nuclear watchdog requiring the country to ship its enriched uranium to neighboring Turkey.
"This proposal which was made by the chief of International Atomic Energy Agency (IAEA) a long time ago was rejected by Iranian authorities at the time," a well-informed source told ISNA on Sunday.
The source talking on condition of anonymity said that, "It seems the IAEA chief is trying to take advantage of President Mahmoud Ahmadinejad's visit to Turkey to gain media coverage on a closed issue."
The UN nuclear watchdog has suggested Turkey as the third country in a draft deal that would provide Iran with fuel for its Tehran research reactor.
The outgoing head of IAEA Mohamed ElBaradei said on Friday that Turkey could enter the proposal as the third-country destination, According to Bloomberg website.
"It should work." ElBaradei had said on Public Broadcasting's Charlie Rose television show. "Iran has a lot of trust in Turkey."
ElBaradei said that the US government would also agree to the suggestion since the Obama administration is "very comfortable with Turkey."
ElBaradei added that though he has not yet presented the idea to Turkey, he was confident that Ankara would accept the idea to hold the material in IAEA custody.
Iran would then get fuel for its research reactor in Tehran from Russia, he added.
The mid-October nuclear draft discussed in Vienna envisages Iran shipping out some portions of its low-enriched uranium (LEU) to be converted into metal fuel rods and returned to the country for the Tehran medical research reactor.
Tehran says that modifications must be made to the draft deal to safeguard the country's interests.
Iranian Foreign Minister Manouchehr Mottaki reiterated in a televised program late Thursday that Iran's 'economic and technical' concerns should be taken into consideration.
"The Islamic Republic examines all the proposals. We have examined this proposal; we have some technical and economic considerations (which need to be addressed)," he said.