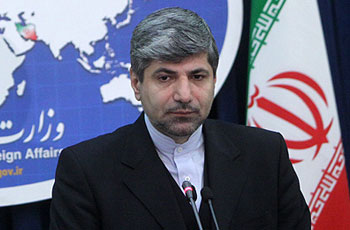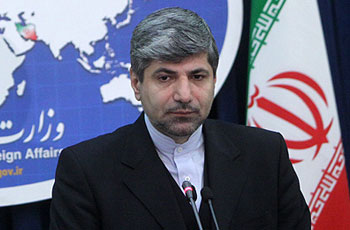 Foreign Ministry spokesperson Ramin Mehmanparast has said that Iran will send back its ambassador to Libya at the earliest opportunity. Iran's ambassador to Libya left the African country amid the popular uprising.
"Iran was among those few countries whose embassies continued their activities during the crisis in Libya, and our embassy was never closed," Mehmanparast stated during his weekly press briefing on Tuesday.
"(However), in protest at the Libyan government's crackdown on the people, Iran decreased the level of its embassy's activities in a certain period," he said.
"After the NTC took control of the Libyan capital, it asked Iran to increase (its embassy's) activities to the level of ambassador, and we welcomed the request," Mehmanparast explained.
Asked if Iran will recognize the Libyan National Transitional Council, he said, "We have thrown our weight behind the Libyan people and their campaign against the oppressor and sent our humanitarian assistance to the country during the developments."
"We have also been in contact with officials at the NTC. And the latest news we have been informed of is the telephone conversation held between Foreign Minister (Ali Akbar Salehi) and the NTC Chairman (Mustafa) Abdul Jalil, in which they invited each other to their countries," he added.
The necessary meetings between Iranian and Libyan officials will be organized after the establishment of a democratic government in Libya, he stated.
Nuland has no command of nuclear issues
Mehmanparast was also asked to comment on the remarks that U.S. State Department spokeswoman Victoria Nuland made on September 12, in which she said the fact that the Bushehr nuclear power plant has been launched is proof that the Islamic Republic does not need to enrich uranium.
The Iranian Foreign Ministry spokesman said, "If her view is that there would be no need for uranium enrichment after (the launch of) a nuclear power plant, that indicates that she does not have a command of nuclear issues."
The Bushehr nuclear power plant was temporarily connected to the national grid and reached 40 percent of its capacity. According to the Atomic Energy Organization of Iran, the power plant will reach its full capacity in November.
According to AFP, Nuland said, "We would note that Russia's agreement with Iran on Bushehr provides that Russia will provide the fuel for Bushehr and will take back the spent fuel."
That fact "in our view underscores the point that Iran doesn't need its own enrichment facilities because it can receive fuel from the international community, as it is in this case," she added.
Panetta's remarks unimportant
Mehmanparast also said that the remarks that U.S. Defense Secretary Leon Panetta made on September 6, in which he said that revolution in Iran appears to be a matter of time, are "unfounded", and that Iran attaches no significance to such remarks.
Iran still ready to negotiate with 5+1 group
Commenting on the letter that secretary of Iran's Supreme National Security Council Saeed Jalili has recently sent to EU foreign policy chief Catherine Ashton, Mehmanparast said Tehran has already announced that it is ready to engage in negotiations with the 5+1 group (the United States, Britain, France, Russia, China, and Germany) if the talks would focus on common ground for cooperation.
"Iran's stance has not changed," he said, adding that misunderstandings could be cleared up through the adoption of a cooperative approach.
Iran will study invitation to attend Bonn conference
Elsewhere in his remarks, Mehmanparast replied to a question about the fact that Iran has been invited to attend the Bonn 2nd conference on Afghanistan, which is scheduled to be held in Bonn on December 5.
Michael Steiner, Germany's representative for Afghanistan and Pakistan, during a meeting with Iranian Deputy Foreign Minister for Asian and Oceanian Affairs Mohammad Ali Fathollahi on September 7, extended an invitation to the Islamic Republic to send representatives to the conference.
Mehmanparast said, "We will study the proposal, and if we feel that our participation in a conference would help (resolve) the issues related to Afghanistan, we will put forward our views."
Regional countries should cooperate to work out a regional solution to the crises facing the region, he added.
Akhoundzadeh's remarks on Kosovo misinterpreted
Asked about the remarks that Deputy Foreign Minister Mohammad Mahdi Akhoundzadeh has recently made about Kosovo, saying his remarks have been misconstrued.
Certain media outlets recently reported that Akhoundzadeh, during a press conference in Belgrade, said that Iran does not recognize Kosovo as an independent state.
There are no diplomatic relations between Serbia and Kosovo as Serbia rejects independence declared by Kosovo authorities on February 17, 2008.
Mehmanparast stated that the Islamic republic of Iran is keeping a close eye on the developments in Kosovo and welcomes six rounds of negotiations held between Belgrade and Pristina.