Europe
Iran 'energy sector' likely target of new sanctions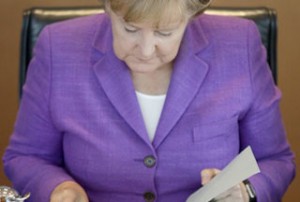 The German Chancellor Angela Merkel says Western powers should impose new sanctions against Iran should nuclear talks bring about no progress.
In an interview published on Thursday by the Frankfurter Allgemeine Zeitung, Merkel said that any new round of sanctions should mainly target Iran's energy sector.
"If there is no progress, we have to react with further sanctions. It is clear that there cannot be an atomic bomb in the hands of Tehran which has a president who constantly questions the existence of Israel," Merkel was quoted as saying, Reuters reported.
The West, along with Israel, accuses Iran of pursuing a military nuclear program – an allegation that Tehran has repeatedly denied.
Iran says its nuclear program is solely aimed at generating electricity to meet the country's growing demand.
Upon taking office, the US President Barack Obama said that he would directly engage Iran in dialogue. However, he set a September deadline for the nuclear talks.
Asked what sort of sanctions the powers would consider, Merkel said; "Economic sanctions which hit the energy sector are up for debate but we will have to wait for the talks. We must talk with our partners Russia and China."
She noted that any further action against Iran would not be decided on before the September deadline.
Tehran has repeatedly declared that it will not give up the Iranian nation's legitimate nuclear rights under Western pressure.