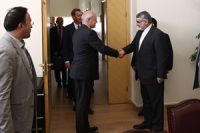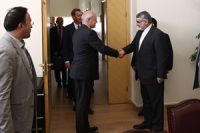 Chairman of Iran's Majlis National Security and Foreign Policy Committee Alaeddin Boroujerdi says Tehran expects European countries to reconsider their policy of sanctions against the Islamic Republic.
Boroujerdi made the remarks in a meeting with Head of Africa, Asia/Pacific and Latin America and the Middle East Division in the German Foreign Ministry Clemens von Goetze in Tehran on Tuesday.
Boroujerdi said, "The Islamic Republic of Iran welcomes expansion of relations with the European countries and hopes that their policy of sanctions will change as quickly as possible".
He noted that the illegal sanctions imposed on Tehran have deprived German companies of economic and trade opportunities in Iran.
Goetze, for his part, said Iran's nuclear issue has eclipsed relations between Iran and Germany.
He said, the German government is deeply interested in broadening economic, political and cultural ties with Iran, and supports Iran's right to acquire peaceful nuclear energy.
The German official further noted that German companies are keen to win footholds in the Iranian market.