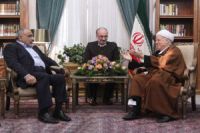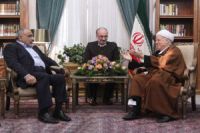 Chairman of Iran's Expediency Council said on Tuesday evening that all sects and ethnic groups should be unified to fight the ominous phenomenon of terrorism in Iraq.
According to IRNA, Ayatollah Akbar Hashemi Rafsanjani made the remarks in a meeting with visiting member of Supreme Islamic Iraqi Council Adel Abdul-Mahdi.
Rafsanjani made it clear that the terrorist groups are exploiting the dispute and political conflicts among the Iraqi officials.
Rafsanjani said that the Iraqi government must strengthen national solidarity and political understanding to fight terrorism.
The Iraqi official, for his part, appreciated Islamic Republic of Iran's support for the Iraqi nation.