Iran
'Iran firmly stands against US-West adventurist tendencies'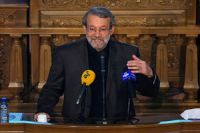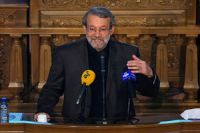 Majlis Speaker, Ali Larijani, said Iran firmly confronts the spiteful and adventurist approach of the US and the West in such fields as human rights and nuclear and missile technologies.
According to IRIB, pointing to the Iranian nation's resistance against US bullying and American adventurism in Afghanistan and Iraq, he told a gathering of the country's passive defense committee that the US pursued a militarized view of world management when occupying Iraq, but Iran stood besides the people of Iraq which resulted in the US failure.
Addressing the US and the West, Larijani said: "If you resort to a bullying tone against Iran on the assumption of imposing your views through economic sanctions, you will not reach any result, as the Iranian nation stands firm and steadfast."
On the recent Zionist invasion of Gaza and killing of the oppressed people of Palestine, as Arab regimes watched in mute silence, he said the only country, which took prompt action in line with its policy of support for the Palestinian nation, was Iran. He added that Iran's timely help eased the pains and sufferings of the Palestinian people and defeated the Zionist entity.
On the naivety of the US and the West in imposing sanctions against the Iranian nation, the Majlis Speaker said that within a few months they realized that their speculations were wrong, and have achieved nothing in this regard.