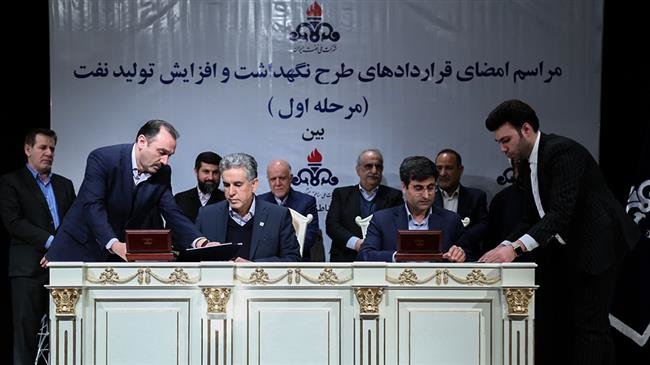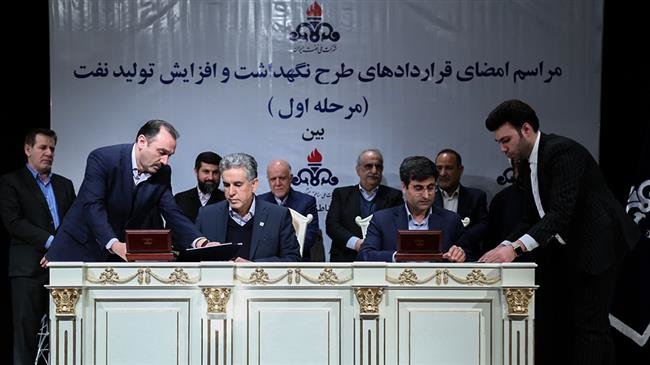 Iranian companies have signed $1 billion in contracts for enhanced recovery at nine aging oilfields of the country which is now left to its own devices in the face of the most restrictive US sanctions ever.
Minister of Petroleum Bijan Zangeneh oversaw the signing between two subsidiaries of the National Iranian Oil Company (NIOC) and seven domestic contractors to raise recovery at the fields by 90,000 barrels a day, media reports said Wednesday.
The fields – seven located in Khuzestan province and two in Bushehr and Fars provinces – are all onshore. They are among 33 oilfields selected for revival by Iranian companies at a total cost of $6 billion over three years after which they will add 300,000 barrels a day to Iran's production capacity.
The new dark clouds of US sanctions have a silver lining for Iranian companies which normally have a slim chance of being involved in upstream projects because major investment schemes are mostly snapped up by international firms.
President Donald Trump's decision in May to withdraw the US from a 2015 nuclear deal with Iran and reimpose sanctions prompted a host of oil and gas companies to abandon their projects in the country.
The decision, however, was a piece of uplifting news to Iranian companies and NIOC has wasted no time in putting its trust in their capabilities and not disappointing them.
"We wanted to create projects only for Iranian contractors," Zangeneh said at the signing ceremony in Tehran Tuesday. "We wanted to raise hope among local companies as the US wants to cause worry and upset Iranian people by the sanctions," he was quoted as saying.
Unlike foreign developers which bring in both investment and technology, local firms are usually spared investing in projects and the Iranian government shoulders the lion's share of providing capital.
In the case of the nine investments signed Tuesday, NIOC Deputy Managing Director for development and engineering Reza Dehqan said the government will provide 80 percent of the funds and the contractors will share the remaining 20 percent.
After a year and half, the Iranian companies will have to use their income from operation of the fields to pay further costs of the projects, Zangeneh reportedly said.
Four of the 33 fields earmarked for development by Iranians are offshore, signaling probably the first ever inroads by domestic entities into a field which has traditionally been a monopoly of big foreign companies because of the complications involved.
Early this month, ISNA news agency said Iran was in talks with several domestic companies to extract more oil from South Pars after foreign companies abandoned the plan in the face of US sanctions.
Iran's development of the South Pars oil layers is still at the pilot phase, but the country sees positive prospects for 150,000 barrels per day of recovery in the currently producing reservoir.
Officials have said the development of the layers is a complex process, where highly intricate horizontal drilling into different reservoirs is needed to link them up for cumulative production at an offshore wellhead.
US re-enactment of sanctions has left Iran's oil industry headed for choppy waters but officials say the measures will accelerate the growth of domestic capabilities.
"A few years ago, we were begging to foreign and even Chinese companies for the purchase of some drilling equipment, but we have now become self-sufficient for them," head of exploration at NIOC Saleh Hendi said last month.
Iran, he said, was currently scouring 60 percent of its total area for new oil and gas reserves, including in places which were deemed until recently the least likely to have hydrocarbon-bearing formations.
"Our preliminary studies show that hydrocarbon resources are likely to be found in the Bostanabad and Miyaneh regions of East Azarbaijan Province," he told reporters in Tehran.