Iran
Iran flag bearer of campaign against violence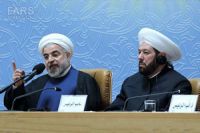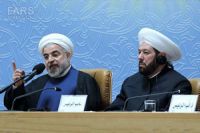 Iran's President Hassan Rouhani said that Iran as an Islamic country bears the flag of campaign against violence and extremism by focusing on the issue in the United Nations General Assembly.
According to IRNA, President Rouhani made the remarks on Friday while addressing the 27th International Conference on Islamic Unity in Tehran.
The president noted that Iran's plan labeled as World Against Violence and Extremism (WAVE) was unanimously adopted in the UN General Assembly.
Rouhani said the plan was so comprehensive and impressive that even those opposed to it were forced to vote for it.
He said "The plan was the first step against Islamophobia long pursued by enemies of Islam."
Rouhani added the Iranian government and nation, by adopting a policy of balance and prudence, have made it clear to the world that they are after moderation,.
The 27th Conference on the Islamic Unity opened in Tehran on Friday morning with participation of more than 380 prominent Shiite and Sunni thinkers, scholars and religious figures from 58 countries.