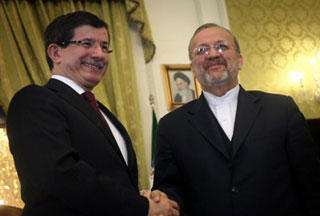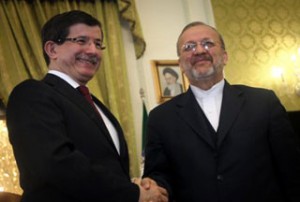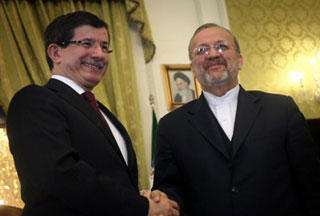 Iran's foreign minister has said an atomic fuel swap deal can provide an opportunity for confidence-building over Tehran's nuclear energy program.
"We think that if the other sides have a true will to materialize the nuclear swap deal, then it can become a multilateral confidence building measure for all sides, including the Islamic Republic of Iran," Manouchehr Mottaki said on Tuesday at a joint press conference with his Turkish counterpart Ahmet Davutoglu in Tehran.
The US-proposed UN-backed deal requires Iran to send most of its low-enriched uranium abroad for further processing and conversion into fuel rods for the Tehran research reactor.
Iran agreed to the IAEA-backed proposal but said it needed guarantees that the other side would deliver the fuel in a timely manner. The West has so far ignored the demand.
During the press conference, Mottaki also said that Iran's nuclear activities were "totally transparent" and under the full supervision of the International Atomic Energy Agency (IAEA).
The Iranian foreign minister said afterwards that a solution to the nuclear issue could only be found via diplomacy.
"The most suitable option before you is talks and the Islamic Republic of Iran always embraces negotiations," he said, when asked about pushes for new UN Security Council sanctions against Iran.
While the US and its allies allege that Iran intends to develop nuclear weapons under the guise of its civilian program, UN nuclear watchdog inspectors have found no evidence to support the allegation.