Iran
Iran foreign minister meets Iraq's senior cleric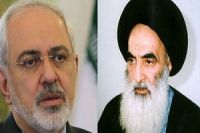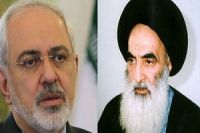 Iranian Foreign Minister Mohammad Javad Zarif has met and held talks with Iraq's senior Shia cleric Grand Ayatollah Ali al-Sistani.
The meeting was held in the Iraqi city of Najaf on Monday.
According to Press TV, the Iranian foreign minister also met with other senior Shia clerics in Iraq, including Ayatollah Mohammad Saeed al-Hakim, Ayatollah Sheikh Mohammed Ishaq al-Fayyadh and Ayatollah Sheikh Basheer Hussain Najafi.
After his meetings, Zarf told reporters that all efforts should be mobilized to guarantee the security of the Iraqi nation and government in the face of terrorism.
He further reiterated the Islamic Republic's support for Iraq's unity, territorial integrity, development and security.
Zarif has traveled to Iraq to hold talks with high-ranking Iraqi officials.
The top Iranian diplomat has held talks with Iraqi President Fuad Masum, Prime Minister-designate Haider al-Abadi, Foreign Minister Hoshyar Zebari, outgoing Prime Minister Nouri al-Maliki, Parliament Speaker Salim al-Jabouri and head of National Iraqi Alliance, Ibrahim al-Jaafari.