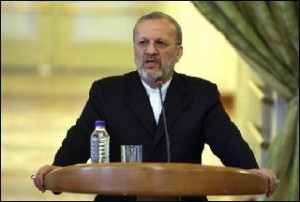 Iranian Foreign Minister Manouchehr Mottaki says a UN-brokered nuclear fuel swap proposal can serve to build confidence in the Iranian nuclear issue.
"The fuel swap is a constructive solution and an opportunity for various parties involved in supplying fuel for Tehran's research reactor to build confidence," Mottaki said in a joint press conference with his Congolese counterpart Alexis Tambwe Mwamba on Wednesday.
A UN-brokered proposal envisaged Iran sending most of its low-enriched uranium abroad for further processing and eventual conversion into fuel rods for the Tehran research reactor, which produces radiomedicine essential for cancer patients.
Mottaki said that the idea has been fully analyzed since it was first floated by Mohamed ElBaradei, the former head of the International Atomic Energy Agency (IAEA).
He added that the Vienna group consisting of France, Russia, the US, the IAEA and Iran are the main parties seeking to clinch the deal, and said the UN Security Council, the P5+1, China and Japan could help with their encouragement.
Iran has raised concerns about the lack of guarantees for suppliers to deliver the enriched fuel in a timely manner. The West has so far failed to alleviate Tehran's concerns.
The top official expressed hope that an agreement could be reached during the upcoming meeting of Iran, Brazil, and Turkey in Tehran. He said that Iran was waiting to hear the new proposals prepared by Ankara and Brasilia.
Turkish Prime Minister Recep Tayyip Erdogan and Brazilian President Luiz Inacio Lula da Silva are slated to visit Iran to take part in nuclear talks.
As two non-permanent members of the UN Security Council, Brazil and Turkey have been looking to find solutions to the nuclear standoff and help reach a fuel swap deal.