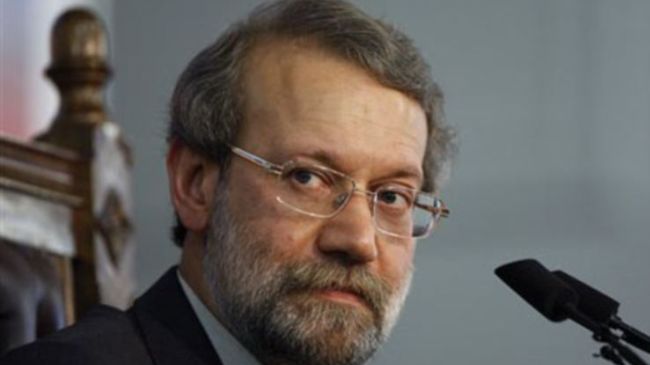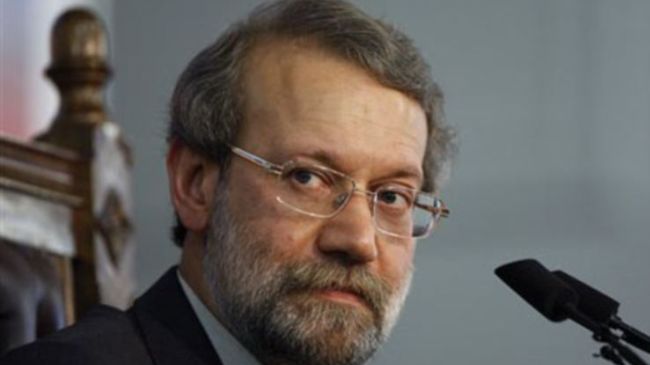 Iran's Majlis Speaker Ali Larijani has hailed the "positive" trend of Iraq's progress in economic, political and security fields and voiced Tehran's full support for Baghdad's "effective" role in the region.
"Iraq can play a very significant role in the current atmosphere, regarding its great political and economic potential and capabilities," said Larijani in a meeting with Sheikh al-Zuhairi, an advisor to Iraqi Prime Minister Nouri al-Maliki and a delegation of the Islamic Dawa Party in the Iranian capital, Tehran, on Wednesday.
He added that the Islamic Republic of Iran has always supported Iraq's development and promotion of its regional and international position.
The Iranian speaker also noted that the ongoing developments in the region have profound impacts on security and interests of regional countries.
Al-Zuhairi, for his part, stressed the importance of bolstering amicable ties with Iran in all fields and said Iraq calls for strategic cooperation with Iran in various political, economic and regional areas.
He referred to foreign interference as the root cause of many problems in Iraq and said foreign powers are trying to cause political crisis in Baghdad and block the trend of its development and the expansion of ties with neighboring states, particularly Iran.
Meanwhile, Iraqi lawmaker and member of the Islamic Dawa Party, Haider Al-Abadi, held a separate meeting with Secretary of Iran's Supreme National Security Council (SNSC) Saeed Jalili on Wednesday.
Jalili said 'the people's government' in Iraq provides an opportunity for the Iraqi and regional nations, adding, "This is an opportunity to make use of all the potential to serve the [Iraqi] people."
Iraq should be able to play a fundamental role in the regional and international affairs under the current circumstances and should not allow enemies to hatch plots and take advantage of the situation, the SNSC secretary pointed out.
Al-Abadi, for his part, called for an improvement in the Islamic Dawa Party's ties with Iran.