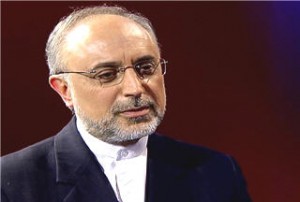 The head of Iran's Atomic Energy Organization has dismissed as biased the UN nuclear watchdog chief's latest comments on Iran's nuclear program.
Yukiya Amano, the head of the International Atomic Energy Agency (IAEA), said in a Monday address to a meeting of the IAEA Board of Governors that while the UN body continues to verify the non-diversion of declared nuclear material in Iran, it is unable to confirm that all nuclear material in the country are being used for peaceful activities as Iran has not provided the agency with "necessary cooperation."
Ali Akbar Salehi said on Tuesday that Amano had taken sides against Iran.
"We expected Mr. Amano to examine and adopt a position on the [Iranian] nuclear issue in an unbiased way, but unfortunately and in contradiction with what he had said before, we did not see an unbiased position," Salehi said on the sidelines of a Tehran meeting of industry ministers of the Developing Eight Countries (D8).
"We hope that he will change his approach," he added.
Salehi also noted that Iran was ready for a nuclear fuel exchange deal with the West as long as "necessary and enough guarantees" are provided.
A UN-brokered proposal would require Iran to send most of its low-enriched uranium (LEU) to Russia and subsequently France for further enrichment and conversion into metal fuel rods.
While the Tehran research reactor, which produces medical radioisotopes for cancer treatment, is already running out of fuel, the draft stipulates that Iran would receive a shipment of the nuclear fuel at a later time.
Tehran has called for concrete guarantees for the delivery of the fuel, citing the West's previous failures to meet its commitments and provide Iran with nuclear fuel as a cause for concern over the Western-backed deal.
Salehi said the guarantee which Tehran insisted on was that the "exchange [of fuel] must happen simultaneously and inside Iran," adding such a condition was "not illogical."