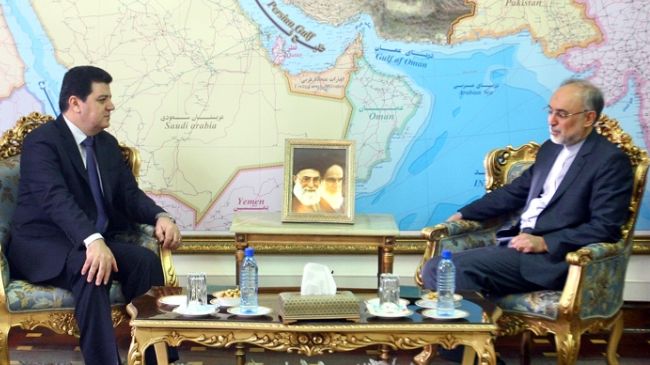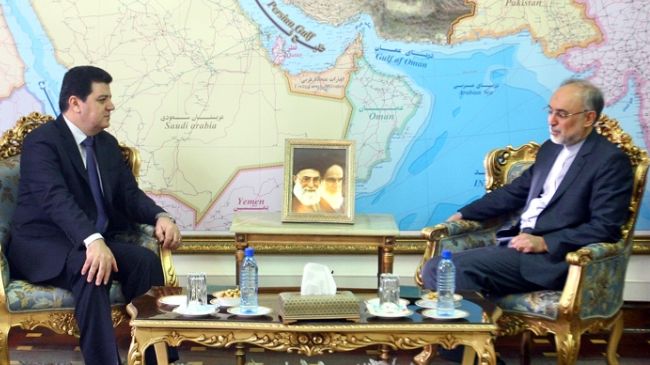 Iran's Foreign Minister Ali Akbar Salehi has expressed hope that the ongoing crisis in Syria would soon be resolved and peace and security would be restored in the Arab country.
"We hope Syria's problem would soon be resolved and we would witness peace and stability in the country," Salehi said in a meeting with Syria's newly-appointed Ambassador to Tehran Adnan Mahmoud on Sunday.
Syria has been experiencing unrest since mid-March 2011. Many people, including large numbers of security personnel, have been killed in the violence.
The Iranian foreign minister also attached importance to the expansion and reinforcement of strategic ties between Tehran and Damascus.
Mahmoud, for his part, lauded the strategic relations between Iran and Syria and expressed hope for the enhancement of the ties between the two countries during his tenure.
During the meeting, Mahmoud also submitted his credentials to the Iranian foreign minister.
In a separate meeting with outgoing South African Ambassador to Iran Ebrahim Mohammad Sali on Sunday, Salehi expressed Tehran's readiness to expand ties with Pretoria in various economic, cultural and trade fields.
The top Iranian diplomat said establishing ties with all African nations is a top priority in the Islamic Republic's foreign policy.
Reiterating the peaceful nature of Iran's nuclear energy program, Salehi censured the West for politicizing the issue.
"Westerners, who have turned technical issues into a political one, have realized the important point that this trend cannot be sustained and they should revise their approach."
Sali, for his part, said that his country fully backs the legitimate rights of the nuclear Non-Proliferation Treaty (NPT) signatories to use peaceful nuclear energy.
The United States, Israel and some of their allies have repeatedly accused Iran of pursuing non-civilian objectives in its nuclear energy program.
Iran rejects the allegations, arguing that as a committed signatory to the NPT and a member of the International Atomic Energy Agency (IAEA), it is entitled to develop and acquire nuclear technology for peaceful purposes.
Further saying that his country seeks to make use of Iran's experiences in various fields, the outgoing South African ambassador called for the expansion of Tehran-Pretoria economic cooperation.