Iran
Iran, IAEA wrap up first day of talks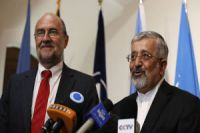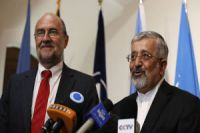 Iran and the International Atomic Energy Agency (IAEA) have wrapped up the first day of their talks over the country's nuclear energy program in Tehran.
According to Press TV, negotiations started on Wednesday morning at the Atomic Energy Organization of Iran (AEOI) and will continue on Thursday.
IAEA delegation, headed by the agency's Deputy Director General Herman Nackaerts arrived in the Iranian capital, Tehran, earlier on Wednesday.
Nackaerts, who is also the head of the IAEA Department of Safeguards, said on Tuesday that Agency's inspectors also hope to win Iran's green light to visit Parchin military site.
Iran has rejected the allegation of nuclear activities being carried out at Parchin with Iranian Foreign Minister Ali Akbar Salehi pointing out that it is technically impossible to clean up places where nuclear work has been done.
Iran and the IAEA last met and held talks in Tehran on December 14, 2012. Nackaerts said, at that time, progress had been made in negotiations between the Agency and the Islamic Republic.
The United States, Zionist regime and some of their allies accuse Iran of pursuing non-civilian objectives in its nuclear energy program.
Iran refutes the allegation and notes that as a signatory to the Non-Proliferation Treaty and a member of the IAEA, it is entitled to develop and acquire nuclear technology for peaceful purposes.