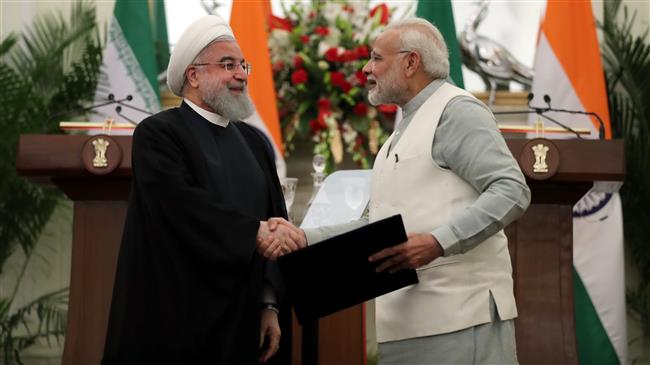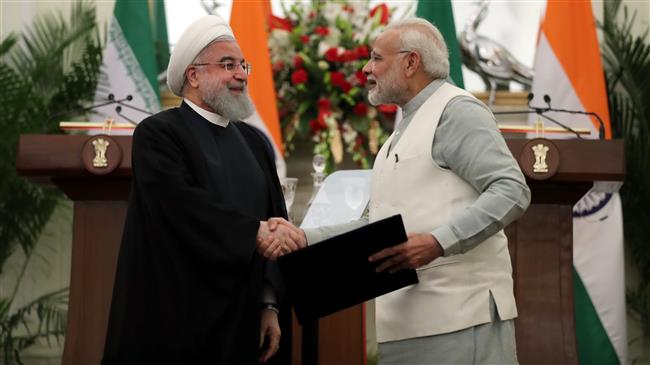 President Hassan Rouhani of Iran and Prime Minister Narendra Modi of India have expressed readiness to expand relations between their countries in all areas.
President Rouhani and Prime Minister Modi expressed their respective countries' preparedness for the enhancement of the relations at the Indian prime minister's Hyderabad House in the Indian capital on Saturday.
The Iranian chief executive, who started a three-day visit of India at Modi's invitation with an initial stop in the southern city of Hyderabad on Thursday, arrived in New Delhi on Friday.
On Saturday, he was officially received by Modi and Indian President Ram Nath Kovind.
Rouhani said it was incumbent on the countries' politicians to deepen the historical amity between the nations in all cultural, economic, and commercial areas.
"Iran and India's ties are not to any country's detriment," he said. "There are expansive capacities for the development and deepening of Iran and India's relations, which should all be seized upon more than ever toward the interests of and creating a better future for the nations and the region," he said.
The Iranian president also pointed to mutual investment in the southern Iranian port city of Chabahar by Iran and India as well as Afghanistan as a means of turning it into a trade hub.
Rouhani said Chabahar could reinforce Iran and India's historical ties by serving as a bridge connecting the subcontinent to Afghanistan, Central Asia, and Eastern Europe. "We are ready to sign bilateral and trilateral agreements to turn the transit route passing through Chabahar into a strategic pathway serving the reinforcement of regional ties," he said.
Iran, he added, can provide the energy resources India is in need of by entering into long-term strategic agreements with New Delhi.
Modi, for his part, said many obstacles had been removed from the way of expanding bilateral economic relations, prompting many mutual investment projects to bear fruit and accelerating the trend of growth in mutual ties.
"Indian companies are ready to further their investment in the areas of mutual cooperation, including oil and gas," he said.
Chabahar, he said, "can change the trade relations game across the region and the world," noting that India had already begun exporting its goods, including wheat, to Afghanistan via the Iranian port city.
During the visit, the two sides signed 15 documents enabling the expansion of cooperation in various areas.
The statesmen also addressed the issue of terrorism, and laid emphasis on the need for bilateral cooperation toward tackling the scourge.