Iran
Iraq
Middle East
Iran-Iraq solid ties ensure regional security, stability: Rouhani
Meeting with the visiting Iraqi foreign minister, President Hassan Rouhani says Iran strongly rejects any foreign intervention in Iraq's internal affairs, stressing that the two countries' strong relations guarantee regional security and stability.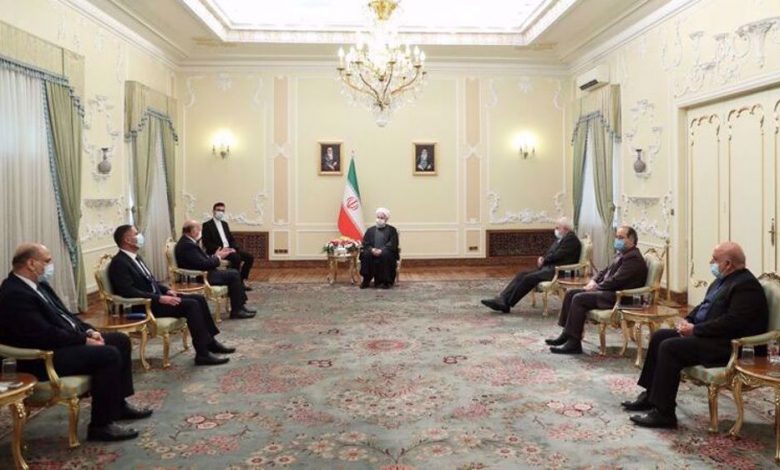 "Iran and Iraq share instances of strong commonality," Rouhani told Fuad Hussein in Tehran on Wednesday. "This commonality connects us in such a way that the results and fruits of this fraternal and strategic relationship have surpassed the countries and come to ensure security and stability across the whole region," he added.
Iran supports Iraq's participation in regional interactions as a weighty element, Rouhani said.
The chief executive considered the countries' cooperation towards defeating the Takfiri terror group of Daesh in late 2017 to be a "very good case in point" that justifies the further strengthening of their bilateral ties.
The Islamic Republic opposes any form of foreign interference in Iraq's internal affairs, considering any such intervention to be to the Iraqi nation's detriment, Rouhani said.
The president denounced the United States' assassination early last year of senior Iranian and Iraqi anti-terror commanders, Lieutenant General Qassem Soleimani and Abu Mahdi al-Muhandis, as "the most shameless" example of foreign intervention in the Arab country.
General Soleimani, who led Iran's military advisory support to Iraq in the latter's battle against Daesh, was martyred while paying an official visit to the Iraqi capital Baghdad.
Rouhani said the US attack targeted "the heroes of the fight against Daesh."
He expressed hoped that the new US administration would "come to the conclusion that its presence in this region does disservice to regional security, and reconsiders this policy [of regional intervention]."
The president, meanwhile, identified Iran and Iraq as two "complementary economies," and expressed optimism that the level of their bilateral trade would rise to the $20-billion annual level.
Hussein, for his part, expressed Baghdad's interest in expanding its ties with Tehran in all areas.
The Iraqi nation and government, he said, are always grateful towards Iran for its contribution to the Arab country's anti-terror struggle, especially against Daesh, "and would never forget this."
The Iraqi official, meanwhile, asserted that Baghdad was perseveringly pursuing US-led forces' withdrawal from its soil.
The Iraqi parliament passed a law following the assassinations, mandating expulsion of all the forces.
The top Iraqi diplomat has so far also met with other Iranian officials, including counterpart Mohammad Javad Zarif and Parliament Speaker Mohammad Baqer Qalibaf.
Zarif welcomed the formation of a joint economic cooperation commission as he discussed improving economic and political ties with his Iraqi counterpart.