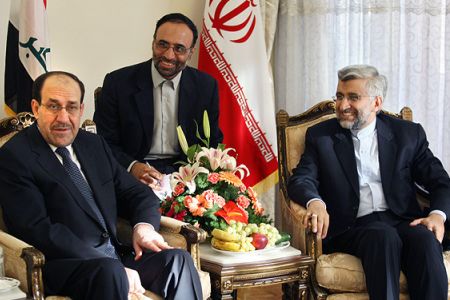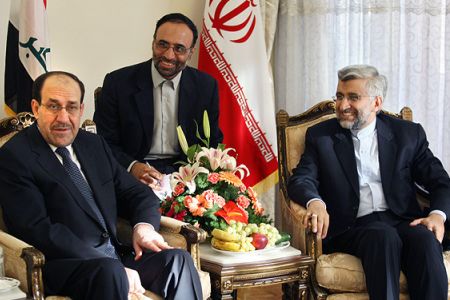 Secretary of Iran's Supreme National Security Council (SNSC) Saeed Jalili stresses the importance of promoting mutual ties with Iraq, saying it would bring security to the region.
The expansion of strategic relations between Iran and Iraq would play a leading role in establishing security and development in the region, IRNA quoted Jalili as saying in a meeting with Iraqi Prime Minister Nouri al-Maliki in the Iranian capital of Tehran on Monday.
Jalili expressed hope that a "strong and effective" government would soon be formed in Iraq based on the country's constitution and democratic trend to serve the Iraqi nation.
According to the Iranian official, such a government would bring the highest of unity, security and welfare to the Iraqi nation.
Maliki, for his part, pointed to Iran's special role in resolving regional issues and said Baghdad's relations with Tehran are based on sustainable bonds.
He expressed Iraq's determination to expand relations with all countries in the region, particularly with the Islamic Republic and said Iran has always helped the Iraqi people in their fight against the Baath regime and the restoration of peace after the downfall of Iraqi dictator Saddam Hussein.
The Iraqi premier pointed out that Iraqi people expect a democratic government to be formed at the earliest to serve their interests.
He arrived in the Iranian capital city of Tehran on Monday on the second leg of his regional tour which will also take him to Turkey and Egypt.
Earlier on the day, Maliki held talks with Leader of the Islamic Revolution Ayatollah Seyyed Ali Khamenei and President Mahmoud Ahmadinejad.
Meanwhile, the Iraqi premier also held talks with former Judiciary Chief Ayatollah Mahmoud Hashemi Shahroudi in the holy city of Qom on Monday.
The meeting was held privately in the absence of reporters, IRNA reported.
However, it is said that Maliki represented a report to Ayatollah Shahroudi on the latest economic situation of Iraq.
The former Iranian judiciary chief, for his part, highlighted the significance of strengthening unity and convergence among Iraqi groups.
"Development and progress will be absolutely possible in Iraq on the basis of this important principle," Shahroudi said.
This is the first visit by the Iraqi prime minister to neighboring countries after the country's parliamentary elections in March.