Iran
Middle East
Palestine
Iran, Islamic Jihad Movement Stress Need for Unity to Stand against US Deal of Century Plot
Iranian Parliament Speaker Ali Larijani and Secretary General of Islamic Jihad Movement of Palestine Ziyad al-Nakhaleh in a phone conversation underlined the need for united front against the US 'Deal of the Century' to defeat the plot.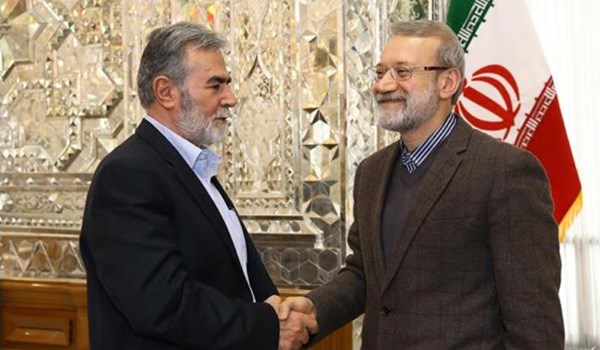 During the conversation on Tuesday, Larijani termed the so-called 'Deal of the Century' a treacherous plan orchestrated by the US and Zionist regime against the courageous resistance of the oppressed Palestinian nation, and said, "Trump-proposed so-called Deal of the Century is eventually doomed to failure."
He called on freedom-seeking and Muslim nations in the world to support Palestinian people, and added, "Today, Axis of Resistance will stand firmly against the excessive demands of the Zionist regime and its allies until attaining the final victory."
Larijani hailed the unity and amity among Palestinian people against the Trump administration's so-called 'Deal of the Century', and added, "With God's support, the Zionist regime will be expelled from the Palestinian lands and territories."
Al-Nakhaleh, for his part, called the so-called peace plan of 'Deal of the Century" as a great challenge for all Islamic Ummah, and said, "This authoritarian plan is a return to the US's slavery system, so that Islamic nations should adopt a united stance against the Zionist regime."
He expressed his deep regret over the policy adopted by some Islamic countries on the issue, and added, "Islamic Republic of Iran has always supported ideals of Palestinian people with its principled policies."
He emphasized the need for evermore unity and amity of Palestinian people and the Axis of Resistance against the Zionist regime, and said, "Resistance is the most important pillar to counter the aggressive policies of the Zionist regime."
Trump announced his so-called 'Deal of the Century' peace plan together with Israeli Prime Minister Benjamin Netanyahu in the White House on Tuesday, giving Israel full control of the settlements and Jerusalem as its undivided capital. The plan was deplored and rejected across the world, including the UN and the Muslim world.
Late on Tuesday, the Iranian Foreign Ministry lashed out at Trump's so-called "Deal of the century" as a great betrayal to the causes of the Palestinians and all Muslim nations of the world, urging all Islamic countries to get united, regardless of differences and disagreements, to fight against the "treason of the century".
"The Zionist regime is an occupying regime and the only solution to solve the Palestinian crisis is a referendum among all main residents of the Palestinian land and such vicious plans are doomed to failure," Iranian Foreign Ministry Spokesman Seyed Abbas Mousavi said.
He called on all free nations and governments in the region and across the world to counter Trump's disgraceful scheme.