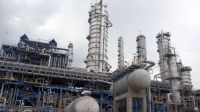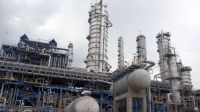 Iran has launched the world's longest ethylene pipeline, which carries the chemical compound from the southern Persian Gulf port of Assaluyeh to petrochemical complexes in the western provinces of Iran.
According to IRNA, ethylene was injected into the West Ethylene Pipeline in Assaluyeh Port in Bushehr Province on Monday.
An engineering manager of the pipeline, Mohammad Reza Rahimi, said the injection had started from some time before and the transferring process had been satisfactory.
Kavian Petrochemical Complex, situated in Assaluyeh, is the main producer of ethylene for the pipeline with an annual petrochemical production capacity of 2.18 million tons.
Rahimi added that the first phase of the pipeline, which carries ethylene from the Pars Special Economic Energy Zone, is 1,200 kilometers long.
Iran has significantly expanded the range and volume of its petrochemical products over the past few years, and the National Iranian Petrochemical Company has become the second largest producer and exporter of petrochemicals in the Middle East after Saudi Arabia.