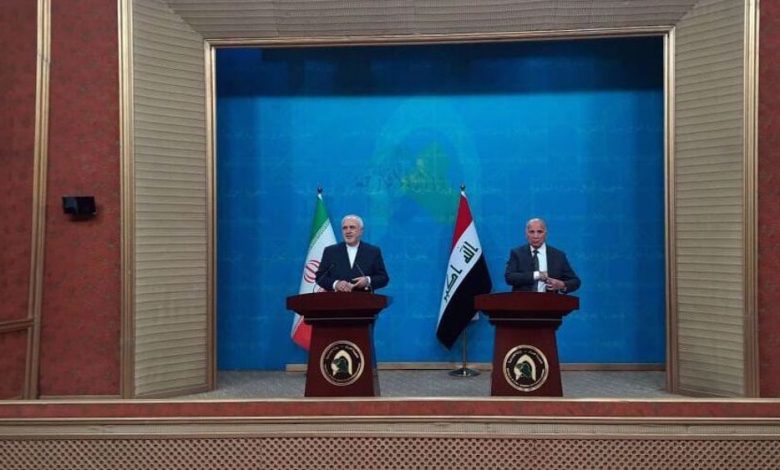 Iran's Foreign Minister Mohammad Javad Zarif has called for a bigger role for Iraq in the Middle East after arriving in Baghdad Monday for talks with the country's leaders.
Zarif sat down for talks with his counterpart Fuad Hussein, praising Iraq's important role in the Middle East and expressing Tehran's hope that Baghdad's role would result in positive developments in the region.
Iran's top diplomat also offered condolences to the Iraqi government and people over Sunday's fatal fire that erupted in a hospital in Baghdad, expressing sympathy with the bereaved families and wishing a speedy recovery for the injured.
Scores of people were killed and injured when a huge fire broke out inside a coronavirus intensive care unit of a hospital in Baghdad on Sunday.
Upon his arrival, Zarif hailed the "very close" bilateral relations between Tehran and Baghdad, noting that the two countries are connected on every side.
He also expressed hope that bilateral relations would grow and contribute to the region's peace and security for the benefit of the two countries.
"Iraq has played a very important role in the region, and we want this role to expand every day," Zarif said.
Tribute to Qassem Soleimani
Zarif was welcomed at the Baghdad International Airport by Iraqi deputy Foreign Minister Nazar Khairallah, a number of officials in the prime minister's office, Iran's ambassador to Baghdad and a number of Iranian diplomats in Iraq.
His convoy stopped at an area near Baghdad airport where General Qassem Soleimani was assassinated back in 2020 to pay tribute to the legendary Iranian commander.
General Soleimani, the commander of the Quds Force of Iran's Islamic Revolution Guards Corps (IRGC), and his Iraqi trenchmate Abu Mahdi al-Muhandis, the second-in-command of Iraq's anti-terror Popular Mobilization Units (PMU), were assassinated along with their companions in a US drone strike authorized by former president Donald Trump near Baghdad airport on January 3, 2020.
Both commanders were highly popular because of their key role in eliminating the Daesh terrorist group in the region, particularly in Iraq and Syria.
Zarif is scheduled to meet Iraqi officials and politicians in Baghdad on Monday before heading to Iraq's semi-autonomous Kurdistan region for talks with its officials on Tuesday.
On Sunday, the Iranian minister met Qatar's Emir Sheikh Tamim bin Hamad Al Thani and his Qatari counterpart Mohammed bin Abdulrahman bin Jassim Al Thani in Doha.