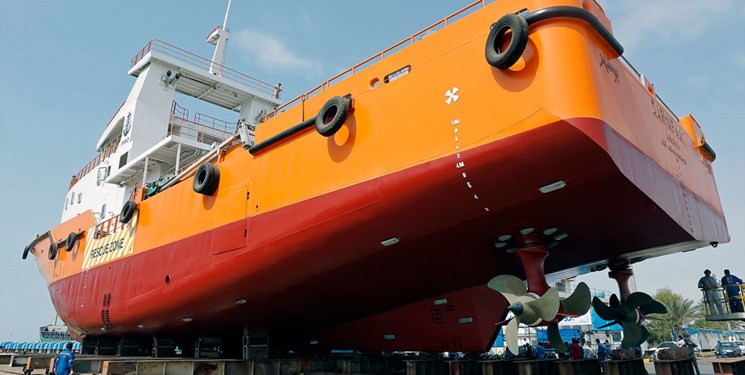 Iran's Ports and Maritime Organization (IPMO) launched a major home-made Oil Spill Response Vessel (OSRV) to enhance environment protection attempts in the Persian Gulf waters.
The major OSRV ship (Darya Pak) was launched on Thursday in Bushehr port city to improve oil spill management capacity in the Persian Gulf.
IPMO has spent 21 million euros ($25.27 million) to build Darya Pak, which literally means clean sea.
The ship is 55.5 meters long, 13 meters wide and six meters tall. It has a draft of four meters and a storage capacity of 550 cubic meters for recovered oil.
A local IPMO official said that the ship has been designed to improve oil spill management capacity in regions located to the Westernmost of the Persian Gulf where a bulk of Iran's crude production and export facilities are located.
The IPMO was involved in a clean-up operation for a major oil leak in the Persian Gulf in late 2019.
Darya Pak is the first OSRV fully designed and delivered by Iranian shipbuilders, said a report on IPMO's website, which added that the vessel is equipped with some of the most advanced devices and gadgets to improve tackling sporadic oil spills that occur in Southern Iranian waters.
The vessel is equipped with a 350-meter drum oil skimmer, a dispersant system, a powerful pump and an electronically controlled diesel engine that allows it to sail with a speed of 16 knots.
In relevant remarks in January, Deputy Road Minister and Managing Director of IPMO Mohammad Rastad said that his country stands among the first 20 world states in term of its shipping fleet and is in possession of 300 ocean-going vessels.
"We have a significant number of regional fleets that traverse mainly in the waters of the Persian Gulf and the Sea of ​​Oman, and they are used for exports, imports and capotage (transferring goods between ports and Iranian islands). Most of the fleets are owned by Iranian individuals and companies," Rastad said.
He added that at present, Iran has 6,000 registered traditional dhows, noting that 4,000 of them are in operation.
Rastad said that 300 ocean-going vessels are under the ownership and flag of the Islamic Republic of Iran, which sail in international waters.
"In general, in terms of fleet capacity owned by Iranian companies, the Islamic Republic of Iran always stands among the top 20 world countries," he added.