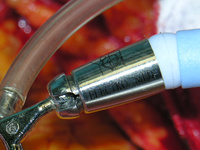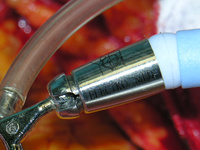 Iranian scientists have manufactured a new type of heart tissue fixture used in open heart surgery.
The open heart surgery takes place in two methods as a treatment on patients suffering heart attacks in order to bypass blocked vessel of the heart. The first method is using hypothermia and the second injection of potassium ions both aimed at keeping the heart almost still in order to connect the conduit vessel to the heart that bypasses the blockage.
The new tissue fixture made in Iran keeps the parts of the heart under surgery motionless while the heart continues to work, a project scientist, Masoud Moazen Najmabad told ISNA.
It works just like a mechanical arm that helps the vessel transplant done while there is no need to stop the heart temporarily, he said.
Unlike the similar foreign-made devices, this device prevents any vessel to be torn and is considered a minimally invasive surgery, Moazen Najmabad added.
According to the scientist it also costs less than the similar foreign devices, takes less room and is smaller and more delicate.