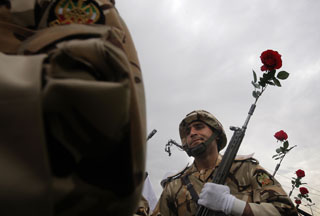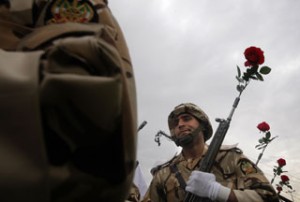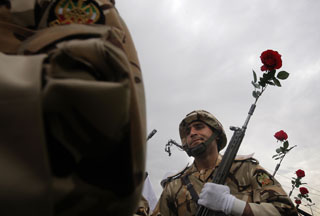 Key Iranian government figures and top army brass have gathered in Tehran on National Army Day for a glimpse at the country's latest military achievements.
The annual ceremony kicked off on Tuesday with Iran's aerial, ground, and naval forces staging a military parade in front of the mausoleum of the late founder of the Islamic Revolution Imam Rouhollah Khomeini, outside Tehran.
During the event, the army unveiled its latest domestically-produced military equipment, including a new generation of long-range missiles.
One of the missiles showcased in the ceremony is the Shahab 3 (Meteor-3) ballistic missile, featuring an improved guidance system and a range of 2,000 kilometers.
The military also unveiled its long-range S-200 air defense system, which has been exclusively designed to defend large areas against aerial attacks, including those by high-speed and high-altitude aircraft.
Meanwhile, the Iranian Navy unveiled the country's first domestically designed guided missile destroyer, the Jamaran, which has been hailed as a breakthrough in Tehran's maritime capabilities.
Equipped with modern radar and electronic warfare capabilities,Jamaran is a 'Mowdge' class vessel capable of accomplishing six simultaneous missions.
Iran celebrates Army Day every year on April 18th.