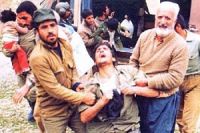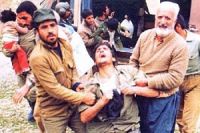 The city of Sardasht is the third city in the world after Japan's Hiroshima and Nagasaki which became the target of Weapons of Mass Destruction.
Disappointed from overcoming Iran in the war fronts, Iraqi Regime imagined that would be able to impose its demands on Iranian nation through chemical attacks.
Hence, in June 28 and 29, 1987, Iraqi bombers attacked 4 crowded parts of Sardasht with chemical bombs and engulfed its residents, women and children, young and old, with fatal chemical gases.
Chemical bombardment of Sardasht was the most awful and disastrous chemical attack during the war which brought many negative effects and consequences. Islamic Republic of Iran called this attack inhumane and Sardasht the first victim of chemical weapons in the world after the nuclear bombardment of Hiroshima.
Chemical attack of invader Iraqi bombers on Sardasht left 110 martyred and 5,000 injured. Unfortunately, many resistant and noble citizens of Sardasht are still suffering from negative effects and consequences of this attack. But, despite commitment of this awful crime, international circles did nothing to halt the continuation of the invasion and even did not blame the bloodthirsty Iraqi regime for that and instead, ignored it as before.According to the Iranian society for supporting victims of chemical weapons, a number of companies helping the Saddam regime are as follows:
*French Chemical Company "Nace" which dispatched chemical engineers who assisted Iraq to construct the Samera complex of chemical weapons
*French companies Tamson C.S.F, Alktal and Matra
*Dutch company K.B.S which sold 500 tons of chemical agents to Iraq in July 1983
*German Company "Karl Kolbe" which provided facilities and instruction for producing chemical weapons to Iraq
*British companies "Baikal" and "Vilkaks" which signed confidential contracts with Saddam Hussein to supply his regime with chemical agents.
Despite the passage of 24 years from the chemical bombings in Sardasht, still the families of victims urge the international community to bring the main perpetrators of the crimes to justice, but their calls seem to have fallen on deaf ears so far.