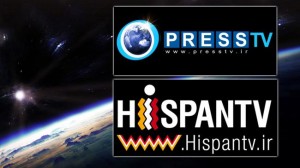 Iran's Foreign Ministry spokesman says the recent ban on two Iranian channels is a blatant violation of the right to freedom of speech.
Ramin Mehmanparast was referring to Spanish satellite provider Hispasat's measure for taking Press TV and Hispan TV off the air.
In a meeting with Director General of the Turkish Radio and Television (TRT) Ibrahim Shahin in Ankara on Wednesday, Mehmanparast said the ban has been enforced by the so-called Western advocates of freedom of speech.
He called for Iran-Turkey cooperation to counter the "unjustifiable" media ban.
"By spreading false reports, Western media always seek to sow discord among Muslim countries. Based on this, the cooperation of the news sources in both countries would be of great significance in enlightening public opinion in Iran and Turkey," Mehmanparast noted.
Hispasat took Press TV and Hispan TV off the air last Friday and ordered Overon, a subsidiary satellite company, to stop the transmission of the two international TV channels.
Overon says the ban on Press TV and Hispan TV follows a similar move by France's Eutelsat company, which has already taken several Iranian satellite channels and radio stations off the air. It says the channels will be removed because of "a wider interpretation of EU regulations."
However, Hispan TV can be watched on Madrid's land-based digital television because it has rented a short-frequency channel in Madrid and several other Spanish cities.
Hispan TV is officially registered in Spain and operates under that country's media law as well as the laws of the European Union.