Iran
Technology
Iran Navy Choppers Exercise Mine-Clearing in Int'l Waters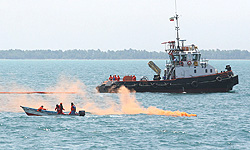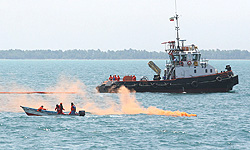 Iran's naval forces exercised sea mine clearing on the fifth day of their massive military wargames underway in the international waters of the Sea of Oman and the Indian Ocean on Wednesday.
Iran's naval forces started massive wargames, dubbed as Velayat 90, in an area stretching from the East of the Strait of Hormoz in the Persian Gulf to the Gulf of Aden on Saturday.
"The exercise for destroying floating mines was carried out by the Navy's RH choppers in the Velayat 90 wargames general zone," Commander of the Air Units of the Iranian Navy Captain Alireza Nayeri told reporters.
He stated that the exercise is aimed at providing safe passage for the navy vessels, adding that the mine clearing phase will be continued by the Navy's RH, SH and AB helicopters to the end of the 10-day wargames.
On Tuesday and on the fourth day of the naval wargames, the Iranian Navy started the tactical phase of the military exercises.
Lieutenant Commander of the Iranian Navy Admiral Seyed Mahmoud Moussavi, who is also spokesman of the wargames, said that Iranian navy vessels embarked on laying mines for fortifying the country's coastal waters to prevent infiltration of hypothetical enemy vessels and submarines.