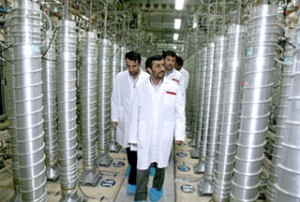 Iran says it has no plan to limit its nuclear activities but is ready to negotiate with the West over a nuclear fuel swap if it receives a formal proposal.
"Iran is ready to sit down at the negotiation table only if it receives a formal written proposal for the swap or sale of 20-percent enriched uranium," Foreign Ministry Spokesman Ramin Mehmanparast said on Monday.
"Iran will continue enriching uranium to 20 percent purity until the time the fuel needed for the Tehran research reactor is supplied. It has currently no plan to limit its [nuclear activities]," the Iranian Labor News Agency quoted him as saying.
Iran announced Tuesday it had started enriching uranium to the level of less than 20 percent after potential suppliers failed to provide fuel for Tehran's research reactor, which produces medical isotopes for treatment of cancer patients. The research reactor is running out of fuel.
On Thursday, President Mahmoud Ahmadinejad said that Iran had produced the first stock of 20-percent-enriched uranium at the Natanz enrichment facility.
Mehmanparast reiterated that in addition to the production of the fuel within the country, which is carried out under the supervision of the International Atomic Energy Agency, the Islamic Republic is ready to exchange or buy the 20-percent-enriched uranium for its research reactor.
The spokesman criticized threats of imposing sanctions or pressure on Iran, saying, "We think that any policy which will make Iran suspend its activities to supply the fuel for Tehran research reactor will be in contradiction to regulations."
Iran has repeatedly announced that it remains open to talks on a fuel swap with the West. However, Tehran insists that its conditions, mainly revolving around guarantee issues, must be taken into consideration if the West is interested in a fuel exchange with Iran.
Iran needs 120 kilograms (264 pounds) of 20 percent-enriched uranium to fuel the Tehran research reactor.
If the fuel for the Tehran research reactor completely runs out, there will be dire consequences for thousands of Iranians who depend on its radioisotope production for medical treatment.