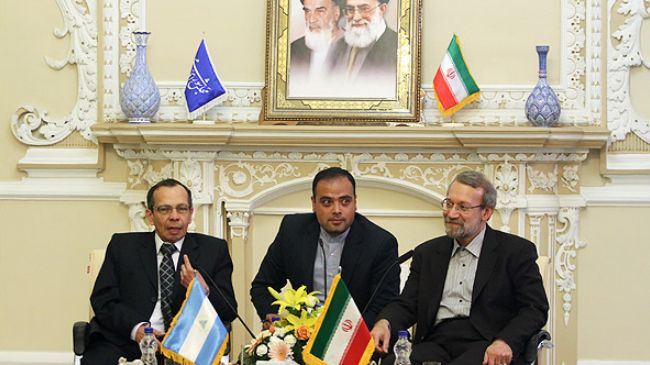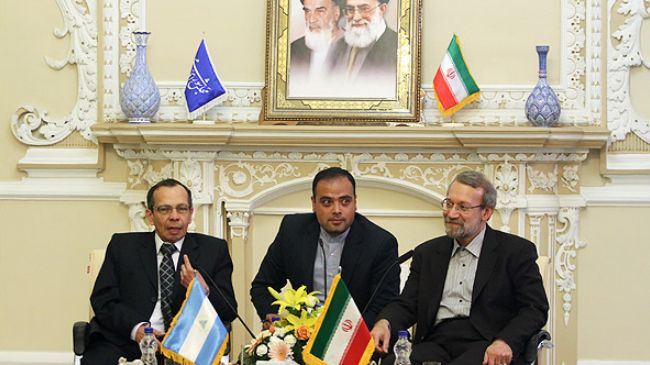 The Islamic Republic of Iran and Nicaragua have called for the further expansion of economic and political relations between the two countries.
In a meeting with his Nicaraguan counterpart Sandinista René Nunez, Iran Majlis Speaker Ali Larijani said, "Political and economic relations between Iran and Nicaragua are expanding."
Larijani added economic cooperation between the two countries can complement collaboration in the international arena.
Larijani described Nicaragua as Iran's friend and ally and stressed the importance of increasing parliamentary ties between Tehran and Managua.
The Nicaraguan parliament speaker, for his part, hailed the meeting with Larijani as positive and described the ties between the two countries as brotherly.
Nunez, who arrived in Tehran on Sunday, confirmed that an Iranian parliamentary delegation will visit Nicaragua in 2013.
Iran has sought to increase ties with Latin American countries over the past few years. The promotion of all-out cooperation with Latin American countries is now among the top priorities of the Islamic Republic's foreign policy.
According to statistics released by the International Monetary Fund, Iran's trade with Latin America has witnessed a considerable rise since 2008.
In January 2012, Iranian President Mahmoud Ahmadinejad visited Nicaragua to attend the inauguration of Nicaraguan President Daniel Ortega for his third term.
In a meeting with Iran's Minister of Economic Affairs and Finance Shamseddin Hosseini in February 2012, Nicaraguan Foreign Minister Samuel Santos Lopez invited Iranian companies to invest in Nicaragua and urged a visit by an Iranian delegation of investors to his country for reviewing investment opportunities.