Economy
Europe
Iran
Middle East
Iran not happy with Europe on INSTEX as FM Maas visits
Iran says European governments have failed to meet its expectations in implementing the Instrument in Support of Trade Exchanges (INSTEX) to protect the 2015 nuclear deal, criticizing their "lack of will" to deal with America's pressure against Tehran.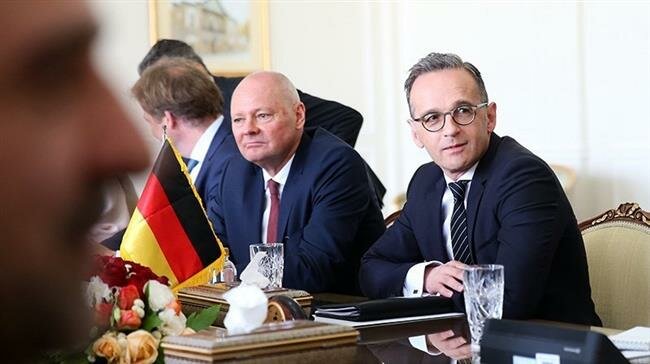 "What the Europeans have to do and what they have done have not satisfied us so far," Foreign Ministry spokesman Abbas Mousavi told reporters on Monday.
His remarks came as Germany's Foreign Minister Heiko Maas began his talks in Tehran as part of a European effort to salvage Iran's nuclear pact, officially known as the Joint Comprehensive Plan of Action (JCPOA).
Mousavi said the European signatories of the deal — the UK, France and Germany — wasted a lot of time before taking action in response to US President Donald Trump's pullout from the landmark agreement last May.
"The first step which the Europeans took after the departure of the US was late and we said just then that this step, although having created a tiny bit of hope, is overdue," he said.
Iran issues warning as Macron echoes Trump on JCPOAIran says comments made by the French president in his meeting with US President Donald Trump will be of no help to saving the Iran nuclear deal.
Last month, Iran scaled back some commitments under the deal and warned that in 60 days it would resume enriching uranium to a higher degree than that permitted by the accord if the Europeans failed to shield it against the US sanctions.
Mousavi said Tehran saw Europe's behavior after unveiling INSTEX as a testament to its "inability" to protect Tehran's interests in the face of US pressure.
"There is no will to resist the illegal demands that violate international norms in their entirety," he said.
Mousavi made it clear that Iran had chosen not to put much trust in the payment mechanism.
"We haven't put much hope in INSTEX," he said. "If INSTEX had been going to help us, it would have done so already."
The European trio claimed upon unveiling the long-awaited special trade vehicle in January that they were trying to keep the nuclear deal alive.
Tehran, however, has made it clear ever since that it is already considering several trade agreements with its neighbors and close allies as alternative to the European solution.
Maas: INSTEX to be operational soon
German FM in Iran: Saving deal or carrying US concerns?German foreign minister arrives in Tehran in a visit aimed at discussing the Iran nuclear deal and de-escalation of tensions in the region, among others.
Maas said on Monday all the formal requirements for the European payment system for barter-based trade with Iran are now in place and it should be operational soon.
"This is an instrument of a new kind, so it's not straightforward to operationalize it," he told reporters in Tehran.
"But all the formal requirements are in place now, and so I'm assuming we'll be ready to use it in the foreseeable future."
Maas was due to meet President Hassan Rouhani and his Iranian counterpart, Mohammad Javad Zarif.
The west European signatories to the deal have defended the agreement, but they have recently announced that they share Washington's concerns over Iran's ballistic missile development and regional role.
Mousavi stressed that nothing outside the JCPOA was on the agenda of discussions with the German foreign minister.
"The EU is not in a position to question Iran's issues beyond the nuclear deal," Mousavi said.