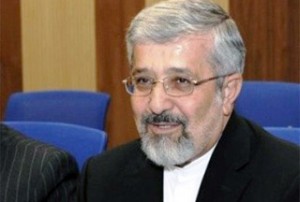 Iran's ambassador to the International Atomic Energy Agency (IAEA) has urged pacifist countries to unite efforts in order to reform the Nuclear Non-Proliferation Treaty (NPT).
Speaking at a press conference in Tehran on Saturday, Iran's top envoy to the IAEA, Ali Asghar Soltanieh, suggested that the ongoing international disarmament and nonproliferation summit in Iran could play a significant role in the outcome of next month's NPT conference in New York.
"The message of the talks in Tehran will without a doubt have an effect on the [NPT] review conference and participating countries will walk away with a clearer vision," Mehr News Agency quoted Soltanieh as saying.
"We are hoping that the conference in Tehran effectively paves the way for the NPT review talks in New York," he added.
He went on to emphasize that the NPT's first 40 years had not been acceptably productive, warning that the selective policies of the United States had undermined the treaty's credibility.
"The [NPT] conference is selective… and in the absence of a large number of signatory nations and the non-binding nature of its resolutions it does not have to be enforced and lacks executive safeguards," Soltanieh said.
Soltanieh concluded that the conference in Tehran was the most significant event in the history of nuclear disarmament and portrays the Islamic Republic of Iran's dedication to the rules regulating the peaceful application of nuclear energy.