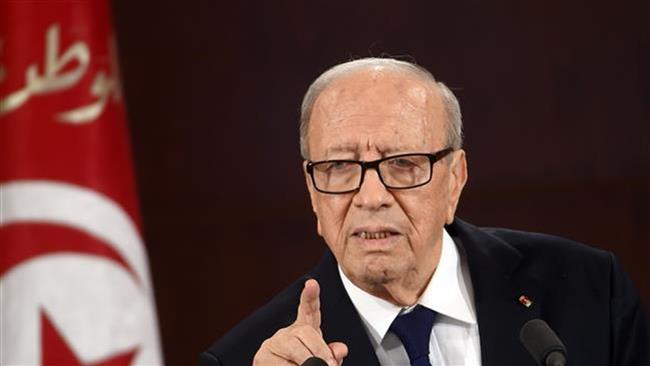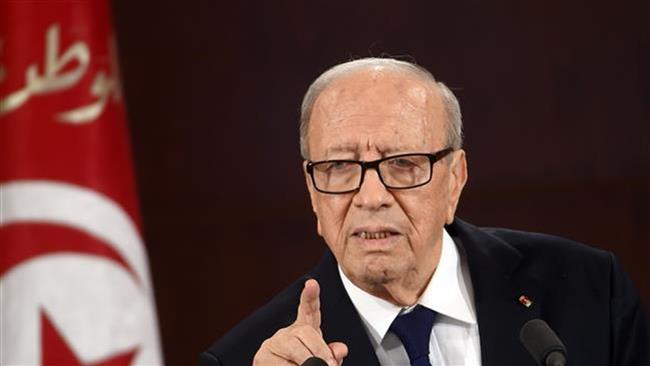 Tunisia's president has called Iran the only source of hope in confronting Israel and hailed the Islamic Republic's sacrifices in the war against terrorists in Syria.  
Beji Caid Essebsi made the remarks in a meeting with visiting Iranian Minister of Culture and Islamic Guidance Reza Salehi Amiri at the presidential Carthage Palace in Tunis, IRNA news agency reported.
"The Zionist regime [of Israel] is the Islamic Republic's only enemy in the region. Therefore, we hope that all Muslim and Arab countries would stand by Iran," Essebi said, according to IRNA.
Essebi called Iran a great country with a rich cultural heritage, saying it has a role to play in the Middle East despite efforts by certain sides to push the Islamic Republic into a Shia-Sunni strife.
"Unfortunately, the Zionist regime and its sponsors were trying to isolate Iran, but, by God's grace, the Islamic Republic succeeded to return to the political scene of the region," he added.
Since the victory of the Islamic Revolution in 1979, Tehran has invariably stood by the Palestinian people against Israel which considers Iran as the biggest existential threat.
Amiri departed for Algeria and Tunisia on Monday at the invitation of his counterparts from those countries to sign a number of bilateral cultural agreements.
Essebi said he "respected" those Iranians who have lost their lives in the battle against foreign-backed terrorists in Syria, while providing advisory support to the Syrian army.
Amiri said had it not been for Iran's contribution to the regional anti-terror battle, terrorists would have now reached Damascus and the Iraqi capital of Baghdad, adding that the Iranian assistance had thus prevented "the virus of terrorism from afflicting all the countries" of the region.
The Takfiri terror group of Daesh, he said, is waging a "proxy warfare" in Syria "to destroy the Muslim world." Amiri condemned foreign-sourced terrorism, saying more than 100 terror outfits have been arrested in Iran, all of whom have confessed to being armed by regional countries.
He also lauded the "seriousness" of the Tunisian government in confronting terrorism which is a challenge to the North African country.
According to Tunisian officials, around 3,000 citizens of the country have joined Daesh's ranks in Libya, Syria and Iraq. The United Nations says the figure could be as high as 5,000.