Syria
Iran Optimistic about Success of New UN Envoy on Syria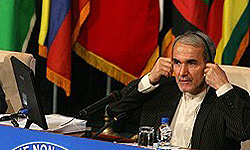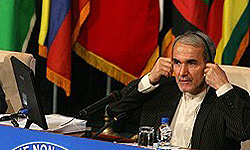 Iran believes that the new UN-Arab League Special Envoy on Syria, Lakhdar Brahimi, has a greater chance of success than his predecessor, Kofi Annan, a senior foreign ministry official said Tuesday.
Speaking to FNA about the contents of the Non-Aligned Movement (NAM) experts meeting in Tehran on Sunday and Monday, Secretary of the NAM experts meeting Mohammad Mehdi Akhoundzadeh described the talks among the member states about Syria as "constructive".
Akhoundzadeh, who is also a deputy foreign minister, further expressed his view on the result of the Syria talks among the senior experts of the NAM member states, and said, "Lakhdar Brahimi, the new UN-Arab League Special Envoy on Syria, can gain more success than Kofi Annan in resolving the crisis."
He further reminded Brahimi's personality as an Arab figure, and reminded that he is "better familiar with the culture and traits of the people in that region than Annan".
He further hoped for the cessation of hostilities in Syria, and said, "Iran hopes that bloodshed and clashes end in Syria after Brahimi's stepping into the case (of Syria)."
On Friday, Syria announced that it is prepared to show full cooperation with Brahimi.
"We are looking forward to see … what ideas he is giving for potential solutions to the problem here," Syrian Deputy Foreign Minister Faisal Meqdad announced.
He added that Damascus is ready to cooperate with Brahimi who has replaced Kofi Annan.
He further expressed hope that Brahimi would help begin a process of national dialogue in Syria.
Syria has been experiencing unrest since March 2011 with organized attacks by well-armed gangs against Syrian police forces and border guards being reported across the country.
Hundreds of people, including members of the security forces, have been killed, when some protest rallies turned into armed clashes.
The government blames outlaws, saboteurs, and armed terrorist groups for the deaths, stressing that the unrest is being orchestrated from abroad.
In October 2011, calm was eventually restored in the Arab state after President Assad started a reform initiative in the country, but Israel, the US and its Arab allies are seeking hard to bring the country into chaos through any possible means. Tel Aviv, Washington and some Arab capitals have been staging various plots in the hope of increasing unrests in Syria.