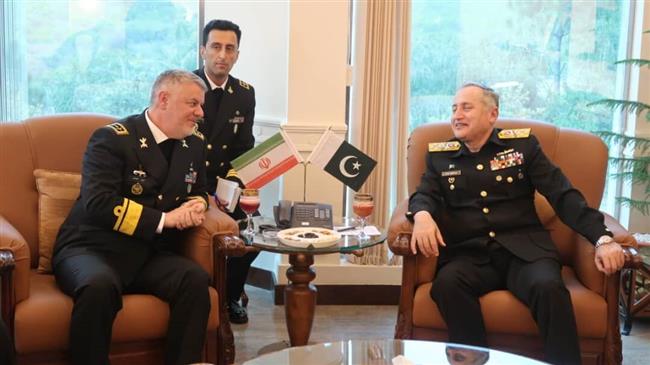 During a visit to Pakistan, Iran's Navy Commander Rear Admiral Hossein Khanzadi has said that the two neighbors — which share both land and sea borders — are seeking to enhance naval cooperation.
In an exclusive interview with IRNA news agency in Islamabad on Tuesday, Khanzadi said he had traveled to Pakistan upon an official invitation, which followed a trip by Chief of Pakistani Naval Staff Admiral Zafar Mahmood Abbasi to Tehran in April for the 6th Indian Ocean Naval Symposium (IONS) Conclave of Chiefs (CoC).
"Our main approach is to broaden cooperation between Iran and Pakistan at sea and we are pursuing it seriously in various operational, technical and educational areas besides information exchanges," he added.
The commander also noted that the Pakistani side had invited Iran's Navy to take part in an international drill in Amman scheduled for the next few months.